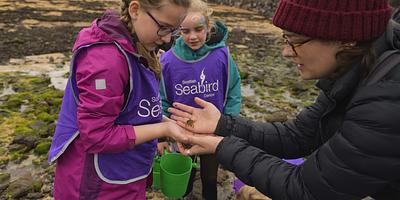 Legacy giving
Why leave the Seabird Centre a legacy?
Education is at the core of what we do
Through visits to the Discovery Experience, Learning Hub, outdoor education programmes and events, we provide young people with new learning experiences. Early engagement with wildlife and the natural world inspires a life-long appreciation of, and desire to protect and look after, wildlife and the environment. We also support conservation in action - click here for more info.
Our future
Scotland is of international importance for seabirds and research confirms that they should not be viewed in isolation, but rather as part of our marine ecosytems which are some of the most diverse in the world.
Our stunning marine habitats and species, including seabirds, are at serious risk, from climate change, pollution and diminishing food supplies. Public understanding of these threats is limited.
Our aim is to diversify our work, enabling more people to appreciate and understand the wider marine environment and the need to look after it. We plan to do this through activities including extended education and outreach programmes, science events, partnership working and volunteering.
Our vision is to help conserve marine environments and wildlife for future generations.
Thank you for your interest.
Click here to see our legacy leaflet.
We are grateful to all those who choose to remember the Seabird Centre in their will. Leaving a legacy is the ultimate way to support a cause you are about.
For a confidential chat, please call Charlotte Bray on 01620 890202 or email fundraiser@seabird.org.