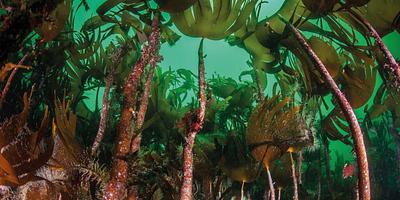 We care about the environment
Sustainability and the environment are at the heart of everything we do.
We have won multiple awards for our environmental focus including a Thistle Award for Sustainable Tourism, the Queen's Award for Enterprise (Sustainability) three times and a Chamber of Commerce Environmental Award.
TOWARDS NET ZERO
We have had studies undertaken to identify our emission sources (Scope 1-3) and are working through priority actions to reduce in particular, scope 1 and 2 emissions. Scope 3 emissions relate primarily to our wildlife boat experiences (3rd party operators) and to our product suppliers and are not within our dircet control. Examples of our approach to having a business model that is more sustainable include:
Energy
We use renewable electricity sources and companies that have appropriate offsetting for gas
We have solar panels installed at our Centre both to heat our water and also to provide electricity on a feed in tariff.
Many of our cameras on the Firth of Forth islands are solar powered, as is our car park ticket machine.
We continuously monitor and take steps to minimise our water, gas and electricity consumption.
Products
We have a sustainable, local and ethical purchasing policy and strive to use environmentally-sustainable products in our gift shop and when we have to replace assets.
We use locally and sustainably sourced food products wherever we can.
Reduce, reuse, recycle
We are a water refill station.
We provide dedicated recycling units for customers and our team.
We re-use furniture and fittings wherever possible.
We use low energy and reactive light bulbs.
We use water butts to catch rainwater for use in flower pots or washing our outdoor equipment.
We recycle food waste and cooking oil.
Travel
We encourage car share, cycling and walking to work.
We offer discounts to customers who visit via public transport - ScotRail and East Coast Bus.
We encourage hybrid working to reduce travel to work where this is operationally feasible.
We encourage use of digital meeting platforms to reduce work travel time.
Team training
We embed environmental awareness in our induction programme.
We have a Green Team to help us develop and implement actions.
We invest in further awareness raising and training for our team.
Nature and climate
We raise awareness of the nature and climate crises through our Centre, conservation, learning and outreach programmes.
We work with North Berwick in Bloom who manage our wildflower garden and have created a coastal grassland on part of our site.
We are a Keep Scotland Beautiful Beach clean hub and loan out beach clean equipment.
We organise regular social beach cleans within our community.
We encourage participation in active volunteering for nature including island habitat management and seagrass restoration.
We operate good biosecurity protocols to reduce the risk of transfer of invasive species or pests/disease within the environment.
Green Tourism
We are a Green Tourism award holder. We use the green checklist to help us continue to strive to improve our overall offer.