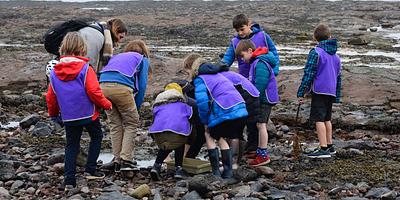 Wildlife Club
The Scottish Seabird Centre Wildlife Club is a fun and engaging out-of-school group aimed at teaching local P1-P7 children all about the natural world. From Rockpools and Rainforests, to Puffins and Pufferfish, the kids will get excited about all things Wild!
The Wildlife club meets every other friday during the school term.
Each session will be themed around a different topic all related to wildlife or how the world works.
We'll Explore Rockpools, Catch Creepy Crawlies, Build Shelters and Campfires, Walk Nature Trails through the woods, Spot Seals and Puffins, Craft some amazing Art and have so much fun!
For information on our prospective 2023 dates, click here.
For our Spring 2023 Wildlife Club Programme, click here.
For more information about the Wildlife Club, click here.
Our Wildlife Club mailing list is the first to hear about our programmes and how to book. If you would like to join our list or would like to book onto the Wildlife Club please email Jack on education@seabird.org or call 01620 890202.