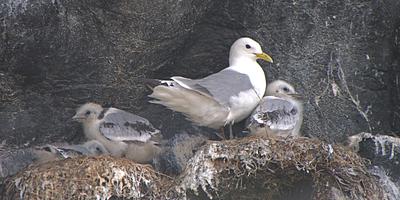 Threats to Scotland's marine and coastal environment
Scotland's seas and our iconic marine wildlife are under threat. It is important to identify and take steps to reduce the impact of these pressures.
Health of Scotland's marine environment
Whilst there's been progress with protecting Scotland's seas, and our iconic marine wildlife, it is still under threat. Some species continue to be at risk of extinction at a global scale, including much loved seabirds such as the Atlantic puffin (Fratercula arctica) and the black-legged kittiwake (Rissa tridactyla).
The most recent assessment of the state of Scotland's seas, which pulls together scientific data, evidence and knowledge, was set out in Scotland's Marine Atlas. This assessment considers the extent to which our seas are clean and safe from hazardous substances, biologically diverse and in good quality. The Atlas also provides an assessment of how productive Scotland's seas are. Productivity is about the benefits we get from our seas and the natural resources they provide, such as food, renewable energy or leisure opportunities.
Threats
A recent global assessment on the state of biodiversity, undertaken by the International Platform on Biodiversity and Ecosystem Services (IPBES) IPBES Global Assessment, brings into sharp focus the threats that still need to be tackled - climate change, invasive non-native species, changes in the use of the seas, exploitation of our natural resources and pollution. Some of these threats can be seen at a local level and others build up cumulatively to affect our habitats and wildlife at regional, national or global scale.
The over-riding threat to our marine environment is the risk posed by climate change. The Intergovernmental Panel on Climate Change (IPCC) reports that global warming is likely to reach 1.5°C between 2030 and 2052 if it continues to increase at the current rate. As 90% of the world's global warming has been absorbed by the oceans, it is unsurprising that this is having a wide range of effects including:
A rise in mean sea temperatures
A rise in sea levels
An increase in sea water acidity (acidification)
A decrease in the amount of oxygen available (deoxygenation)
A pattern of increased frequency and intensity of weather extremes
Loss of 'climate space' where conditions are suitable for species
Increase in the conditions suitable for invasive non-native species
Acidification of our marine environment has a range of consequences. One of these is that it affects the ability of mollusc species, such as mussels and oysters, to develop their protective shells by reducing the process of calcification. A pattern of increases in sea temperatures and intensity of storms have both indirect effects on our internationally important breeding seabirds through reductions in food availability and direct effects such as increases in the mortality of birds during extreme weather. For example, black-legged kittiwake, have declined by 70% since the mid-1980s, with the downward trend largely linked to a reduction in their main food supply, sandeels, as result of climate change.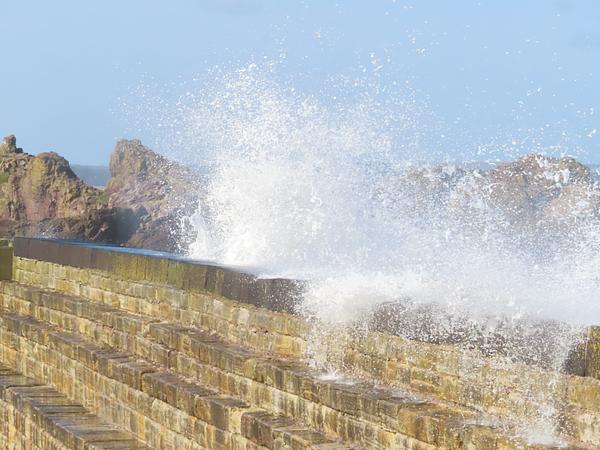 For many years, plants or animals have been brought to our shores by people through a range of different pathways, such as the movement of boats, equipment, goods or stock. These movements arise from both international trade and recreational and leisure activities. Where these species have a negative impact on our native wildlife or people's well-being or the economy they are termed invasive. It is important to have protocols in place to detect and then respond to invasive species in our coastal and marine environments. The best line of defence is to try to prevent these invasive non-natives arriving in the first place by having appropriate biosecurity measures in place.
Examples of non-native invasive species around the UK include:
Wireweed (

Sargassum muticum

) – an olive-brown seaweed, with tough wiry stem, that is over 1m in length and found in shallow areas and rock pools. Native to the north-western Pacific shores it was unintentionally introduced with commercial oysters to other countries and has spread from there by natural dispersal or fouling on boats. It can outcompete native species, be a nuisance to people enjoying recreational activities such as swimming and kayaking and can foul fishing gear.
Carpet sea squirt (

Didendum vexillum

) – is a marine invertebrate which is capable of forming large colonies. Originally from the North west Pacific it is most likely to have been introduced to other areas by attaching to the hulls of boats or through the movements of stock for aquaculture. It can cover and significantly alter the species composition of sediment layers and can overgrow mussel beds and foul aquaculture gear.
Slipper limpet (

Crepidula fornicata

) – is a limpet about 5cm in length which is often found in stacks or chains which are made of several individuals. This species is native to Canada and the Eastern coast of America and is most likely to have been imported with American oysters. It can outcompete native species by reducing the amount of hard surfaces they have available to attach to and can have an economic impact on fisheries and mariculture when heavily infested, fouled shells have to be cleaned.
Organisations such as Biosecurity for LIFE are working to raise awareness of the threat of invasive predators, such as rats, mink, stoats and feral cats which can be devastating for island seabird populations. Their aim is to put in place systems to prevent their accidental introduction to islands.
Pollution comes in a variety of forms and from a variety of human sources both on land and at sea. It is estimated that 80% of all marine pollution comes from human activity on land and enters the sea through rivers and streams. This serves as a reminder of how our behaviours on land affects the quality of our marine environments. Examples of marine pollution include:
Agricultural run-off

– when excessive use of nutrients, such as fertilisers, and chemicals from farmed areas washes into streams and rivers and flows out into our seas. Excessive use of fertiliser can result in high concentrations flowing into our seas, which in turn leads to nutrient enrichment that triggers algal blooms. The process is known as 'eutrophication' and the blooms block out light leading to the death of plants, the build-up of bacteria that use up the oxygen making it difficult for other animals to survive.

Chemical contamination

– this can come from a variety of including oil from tankers or platform spills, toxic metals that may come from industrial, mining, or metal processing sites and persistent chemicals used in everyday life. Awareness has been growing about the presence of chemicals which have been dubbed 'forever chemicals' - PFAS (Per- or Poly-Fluorinated Alkyl Substances). These chemicals are found extensively in everyday items such as food packaging, clothing and cosmetics because of their ability to repel oil and water and to lubricate things. It is these very qualities that mean that these chemicals don't easily break down when they enter our environment and they can build up in the food chains and be toxic to our marine wildlife. You can find our more about PFAS chemicals from our partner Fidra.

Marine litter

– the most visible of all sources of pollution is the litter that finds its way from land or from marine sources onto our shores and into our seas. Examples include waste from beach users, sewage-related debris, medical waste, shipping debris and discarded fishing lines, nets or gear. There's also a growing problem with plastic in our marine environment from discarded drink bottles, cotton buds and carrier bags. The IPBES Global Assessment provides a stark reminder of this with its assessment that marine plastics have increased tenfold over the last 20 years, and are impacting on 267 species, including 44% of seabirds. Marine litter in all forms can find its way into the nests of our seabirds, be ingested by seabirds or marine mammals and can cause harm by entangling them.
Our coastal and marine environments continue to placed under pressures from development and the exploitation of our natural resources, using these at levels beyond which they can naturally replenish.
Coastal development

– as the human population expands we demand more physical infrastructure as places to live, to help us travel around and to create space for our leisure activities. We also put in place hard physical structures to try to stem the effects of coastal erosion and to protect us from storm damage. These activities all reduce the amount of space available for our natural habitats and wildlife, may increase surface water run-off and pollution and can change the energy dynamics around our coastline. Increasingly more natural solutions to defending our coastlines are being sought such as living shorelines and habitat restoration that takes the energy from waves and creates a buffer against tidal waves, storms and coastal flooding.

Unsustainable fishing

– commercial fishing can damage our marine environment in a range of different ways. This includes overfishing when more fish stock is removed from the marine environment than can be naturally replenished. Over the years this has resulted in the decline of fish stock and even the collapse of certain fish stocks, such as cod, from the west coast of Scotland. Certain forms of fishing gear, such as scallop dredgers, can also cause harm to our marine habitats and wildlife if they scour across sensitive habitats. When buying fish it is important to think about where it has come from and how it has been caught. Eco-labelling schemes too, such as the Marine Stewardship Council help to promote sustainable fisheries and fish consumption.