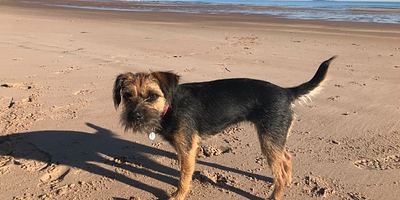 To ensure that a visit to our Centre is enjoyable for all of our visitors, we've created a Pooch Policy. Please see below and feel free to contact us if you have any queries, recommendations or concerns.
Well-behaved, clean dogs on short leads are permitted in all indoor and outdoor public areas
Assistance dogs are also allowed in all areas
To ensure you and your dog have a pleasant visit, we supply fresh drinking water for dogs, just outside the front entrance and on the Seabird Café decking area
Should your dog foul anywhere in the Centre during your visit, it is the owner's responsibility to clean it up immediately. We can provide a poo bag in an emergency (responsible dog owners should have their own) and we will provide a mop and bucket if required
We reserve the right to charge you for any damage caused by your dog whilst visiting the Centre
Please remember that not all our visitors like dogs. Children and adults can be frightened in their presence. You may be asked by a member of our team to sit away from any visitor who is concerned by the presence of your dog
We reserve the right to ask anyone with a dog to leave the premises should we deem it necessary
Dogs are allowed to travel on our Catamaran boat trips, subject to pre-booking and skipper's permission
Please do not leave unattended dogs in a car – this is very dangerous as dogs can die in hot cars.