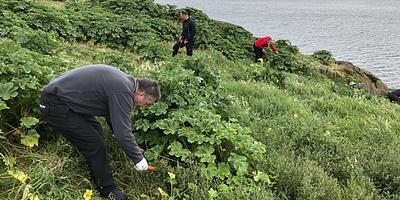 PARTNERSHIP AND SPONSORSHIP
The Scottish Seabird Centre is seeking to partner with corporate organisations, to develop and deliver programmes and projects that will help towards achieving our vision 'To ensure that Scotland's marine environment is healthy, wildlife-rich, valued and enjoyed by all' and our purpose of "Inspiring and educating people to care for our marine environment". Partnerships can benefit your company in a range of different ways and provides vital support for our conservation and education programmes.
We believe that partnerships should be mutually beneficial. Your company can benefit in a range of ways by drawing on our expertise, using our facilities and contributing to our conservation and eduction activities. You will be working with a charity of national repute and will be able to demonstrate your, medium to long-term, commitment towards sustainability, good environmental stewardship of the marine environment and supporting the communities we work with. You will also be contributing to the implementation of some of the UN Sustainable Development Goals.
We benefit by gaining access to knowldge, skills and expertise and networks that can help us strengthen our organisation. Also, greater financial sustainability over the medium to long term which enables us to invest in our activities and extend our reach to different audiences and increase our impact for our marine and coastal environments.
Ways of working together
There are a number of ways that we can work together including:
Partnership at the strategic or programme level
Sponsorship of a project, event, exhibits or exhibition
Supporting our learning, outreach or visitor engagement activities
Corporate membership
Fundraising for us
Team development days
The William Grant Foundation and William Grant and Sons have provided support to the Scottish Seabird centre for many years. We are always glad to learn how our funding has enabled the Charity to achieve significant positive outcomes, for example through new programmes, staff roles and core activities. With our environment facing increasing threats, we are pleased to be able to provide long-term support where it is most needed, helping protect our stunning marine heritage for the future.
CORPORATE MEMBERSHIP
Corporate memberships bring great benefits including:
Membership cards allowing your staff free entry all year to our newly refurbished Discovery Experience
Cards are transferable between your staff and valid for two adults and up to four children
Additional guests receive 10% discount on admission to the Discovery Experience
Cards also give you 10% discount in our Seabird Café, retail and wildlife boat trips
Additional benefits:
Advanced notification of events or specific corporate days
Free monthly members' newsletter, with updates and activities
Acknowledgement and listing on our new website (12,000 visits per month)
Team building and volunteering days in conservation, education or outreach.
You can view and download our Corporate Membership Brochure here.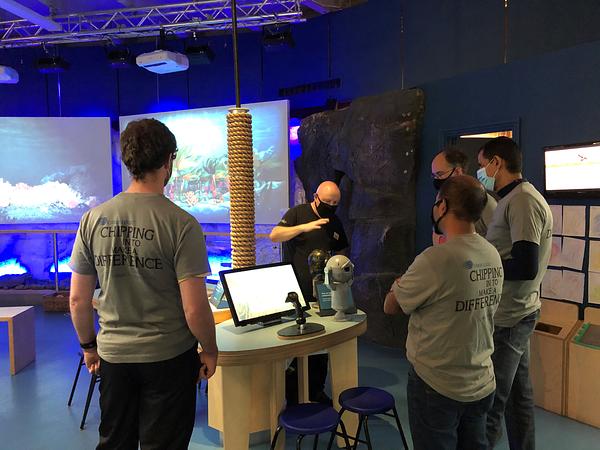 The membership cards have proved popular with staff here at Baillie Gifford. Being a corporate member means we can contribute to the education and conservation programmes, whilst affording staff and their families the opportunity to experience the Scottish Seabird Centre.
TEAM DAYS
Team days at the Scottish Seabird Centre provide fun, accessible group activities that give your staff the opportunity to enjoy time together while learning about, and helping to protect, our stunning coastal and marine environment. Whether it is beach cleans, nurdle hunts or wildlife surveys, we have a range of options for all interests in return for an appropriate donation.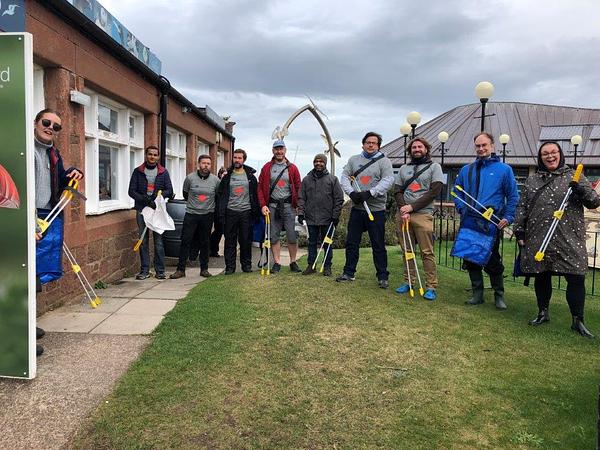 The Cirrus Logic Edinburgh team had an amazing experience at the Scottish Seabird Centre with a variety of activities and such stunning surroundings. The staff really appreciated the opportunity to work together in person. We learned much more about the marine world and it's great to know the work we did will have had a positive impact - we are now fully versed in nurdle hunting! The day was well organised and presented, taking account of different needs and abilities. Everyone had a great time and we definitley recommend it to others.
Get in touch
These examples just represent some of the ways that we can work together to help protect Scotland's stunning marine environment. Whether it is hosting an event, staff fundraising, match-funding, volunteering or gifts in kind, we are grateful for any support. In return, we would be delighted to include your name on our website and share your support via other channels as appropriate.
You can find out more about being a corporate supporter, how we can tailor options for your company and details of our Ethical Fundraising Policy, by contacting Charlotte Bray our Fundraising Manager by E-mail: fundraiser@seabird.org.
We'd love to work with you and look forward to hearing from you.