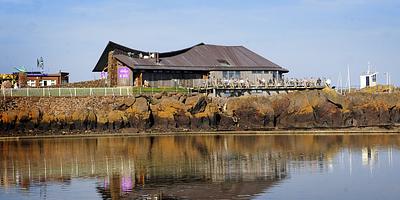 Volunteer with the Scottish Seabird Centre
We are incredibly grateful to our amazing team of volunteers, who play a key role in the delivery of our education, conservation, community, and fundraising work.
Our brilliant volunteers work tirelessly to support, fund, and deliver the essential work of the charity. Recognised for their exceptional and varied work by the Queen's Award for Voluntary Service, they are a key part of everything that we achieve today.
The Scottish Seabird Centre Volunteer Group contributes to the charity in a variety of ways and volunteers are free to choose the activities or departments which they would like to contribute their time to. You can find out more about the activities our volunteers are involved with by reading our Volunteer Handbook here.
We warmly welcome new volunteers from all backgrounds to our team. We try to take a flexible approach, adapting our opportunities to be as inclusive as possible and to match the interests and requirements of our volunteers. If you would like to find out more about volunteering with the Scottish Seabird Centre or ask us a question, please don't hesitate to get in touch.
Find out more about our Conservation Project Opportunities
As well as our core Centre volunteers we have opportunities to support our marine conservation projects based here in the Firth of Forth. Find out more about how you can get involved in SOS Puffin or Restoration Forth below.