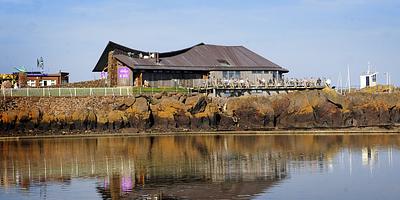 Seabird Cafe
Enjoy locally-sourced East Lothian produce, friendly service and stunning views.
Our spacious cafe is the perfect spot to relax, enjoy some locally sourced food and drink and soak up the amazing coastal views towards the iconic Bass Rock.
Our full menu* is listed below and available as a PDF here.
*Please note that due to staff shortages, we will be serving a reduced menu of hot drinks and cakes on the following dates: Wednesday 15 June, Thurdsay 16 June and Wednesday 22 June, Thursday 23 June.
Our vision is for a healthy, wildlife rich marine environment. These are just a few of the steps we have taken towards a more sustainable future.
We are a registered refill station and are very happy to refill your reusable water bottles
We have plastic free drinks bottles, non plastic straws and no single use plastic sachets in our cafe
We use local food and drink suppliers and sustainably sourced fish
Sit-in or Takeaway
There's no cost to access our café and members can enjoy a generous discount.
Food is served all day but we ask for final orders for hot food are 45 minutes before closing.
There are vegetarian and vegan options and if you have an allergy please discuss this with our staff.
A children's menu is available, bottle-warming and baby-changing facilities: we also have a breastfeeding-friendly award.
View our full Takeaway menu here.
Keeping you safe
As Scotland's COVID-19 rules are relaxed we have returned to a counter-service but retain our high standards of cleaning and additional space indoors to continue to protect and reassure you during your visit. Our cafe views remain as spectacular as ever.
For full details of our COVID19 health and safety processes please click here.
Seabird deck
The Scottish Seabird Centre's seaside sun deck is the only one in North Berwick!
Relax and enjoy the stunning views out to the Firth of Forth, North Berwick's boating pond on East Beach and the Bass Rock - the world's largest colony of Northern gannets.
Well-behaved dogs are welcome and water bowls can be provided.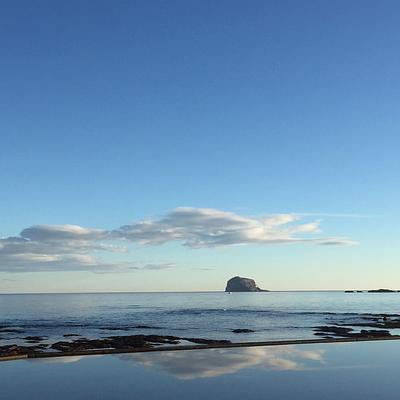 Our menu
Main meals
Home-made soup with rustic bread (v) £4.50
Breaded Scottish scampi with salad & fries £11.00
Fresh breaded fish with fries, salad & peas £12.00
Whitebait with salad & fries £11.00
Filled baked potatoes
Served with salad & coleslaw £7.50
Cheese (v)
Egg mayo (v)
Tuna mayo
Bacon & mozzarella
Prawn marie rose
Fresh salad
Oak-smoked salmon salad £9.50
Prawn salad £9.50
Cheddar and beetroot salad (v) £8.50
Snacks
Sandwich, bloomer style, served with mixed salad & tortilla chips £5.95
Brie & cranberry (v)
Egg mayo (v)
Cheese & ham
Prawn marie rose
Chicken mayo & sweetcorn
Tuna mayo & cucumber
Bacon, lettuce & tomato
Toasties
Served with mixed salad £5.25
Cheese & onion (v)
Cheese and tomato (v)
Bacon & mozzarella
Ham & cheese
Extra fillings 95p each
Scottish Roll - Bacon, sausage or scrambled egg £3.50 (available until 12.30pm)
Side orders
Fries £3
Potato wedges £3.60
Bread roll 55p
Side salad £2.95
Chips & cheese £3.95
Baked beans 95p
Peas 95p
Cheese 95p
Toast 55p
Dips: salsa, sweet chilli, garlic mayo or sour cream 95p each
Soup & sandwich combo
Served Monday to Friday £6.95
Egg mayo (v)
Brie & cranberry (v)
Tuna mayo & cucumber
Chicken mayo & sweetcorn
Cheese & ham
Bacon, lettuce & tomato
Children's meals
Chicken bites, fish goujons or sausages with fries £4.75 (with fries, beans or peas £5.25)
Macaroni cheese (v) with garlic bread £5.25
Baked potato
Cheese (v), egg mayo (v), beans (v) or tuna £4.75
Cheese & beans (v) £4.95
Toastie or sandwich
Cheese (v), ham or bacon £3.15
Ham & cheese £3.50
Side orders
Fries £2.60
Potato wedges £2.65
Salad £2.65
Cakes & ice cream
Home-made scone £1.95
Toasted teacake £1.95
Small cake £1.95
Medium cake £2.50
Large cake £2.75
Luca's ice cream £1.80
Drinks
Americano £2.60
Flat white £2.80
Espresso £2.10
Cappuccino £2.80
Café latte £2.80
Mocha £2.80 Flavourings 60p (decaffeinated option available for all coffee)
Pot of tea £2.10
Fruit & herbal teas £2.30
Hot chocolate £2.60
Luxury hot chocolate £3.00
Children's hot chocolate £1.95
Fizzy drink can from £1.55
Snapple £2.40
Carton £1.10
Smoothie £2.20
Mineral water £1.70
Presse £2.25
Fentimans £2.40
Innocent bubbles £2.40
Speciality beers
Belhaven 80 Shilling, St Andrews 500ml £3.75
Hollyrood & Edinburgh Gold, Twisted Thistle, Speyside, Craft Pilsner and Scottish Ale 330ml £3.00
Cider and wine
Thistly Cross Cider 500ml £4.00
750ml bottle red or white wine £14.95
187ml bottle £4.50
Members enjoy discounts on all our Seabird Cafe prices.
All our meals and snacks are freshly prepared every day and our high quality ingredients are sourced locally, wherever possible.
All income supports our work as a conservation and education charity.
We have been recognised by VisitScotland's Quality Assurance Scheme, Taste Our Best.