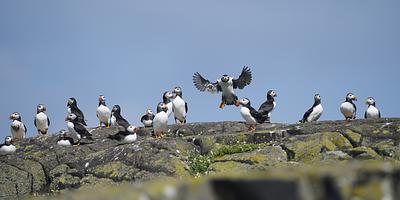 Scottish Seabird Centre Strategic Plan 2020 - 2025 - Inspiring people to care for our marine environment
We have worked with our Board of Trustees, Staff, Partners and Stakeholders to develop a strategic view on what our priorities should be for 2020-2025. This planning comes at a time when global awareness of marine environments, the pressures these are under and the need to act is rapidly growing.
Our new organisational vision reflects our intention to extend our remit from a focus primarily on seabirds to one which covers Scotland's seas and the diversity of amazing wildlife it supports in the broadest way. Our vision is "To help ensure that Scotland's marine environment is healthy, wildlife-rich, valued and enjoyed by current and future generations".
Scottish Seabird Centre Impact Report 2022
We're delighted to share highlights and progress from August 2021 to January 2022.
Scottish Seabird Centre Impact Report 2021
We're delighted to share highlights and progress from the first 6 months of 2021.
Scottish Seabird Centre Annual Review 2021/22
Scottish Seabird Centre Members' Magazine 2019
Our most recent Members' magazine was published just as we opened the doors to our all new Discovery Experience. The magazine can be downloaded HERE. It's full of fantstic articles from our teams around the Centre and from some of our valued supporters. Highlights inclue a great article form the Firth of Forth Lobster Hatchery and also a piece on the changing fortunes of seabirds in the Forth, by John Hunt, leader of the SOS Puffin project.