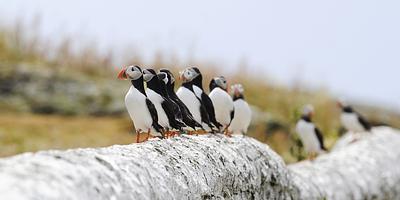 Fundraising
Support our marine conservation and education work
New Fundraising Appeal
Scottish Seabird colonies are being impacted by an outbreak of a highly pathogenic avian influenza (HPAI). To assess the scale of the impact of this disease on the Bass Rock Northern gannet colony we urgently need to raise additional funds to support survey work, including drone flights and image assessments, over the island this summer and to monitor the recovery in future years. On islands such as Craigleith and the Lamb it will help us establish an early detection method for threats to our seabirds, including diseases and/or invasive species, enabling us to respond quickly.
Any funds raised above the target will support our continuing conservation activities and research on local islands that help increase the resilience of seabird colonies to human pressures.
Big Give Christmas Challenge – Generation Sea: Empowering Young People
Thank you to everyone who has helped reach our initial pledge target of £7500!
This is the first time we've undertaken a Christmas appeal. Our online campaign will take place from 29th November to 6th December, when all donations will be doubled.
Money raised will help us develop our activities to focus on inspiring young adults who have disengaged from formal education to explore the wonders of Scotland's seas and coasts. Through supported science learning and communications, in outdoor and informal science settings, we will help them build their confidence, learn new skills and be better prepared to pursue green jobs in the future. Our overall target is £30,000, to be achieved via pledges, online donations and Big Give champion match funds.
We will share links and more details of how you can support the next stage of this campaign in November.
Thank you for helping us inspiring the next generation of science communicators.
How you can support our charity
There are lots of ways to support our charity. Income raised from our café, retail and Discovery Experience all help to support our charitable activities, but we must also rely on additional fundraising to support our important conservation activities, science communications and marine learning programmes.
Every little thing you do really does count. For example:
£20 could help us inspire children to develop a life-long love of nature by funding science and learning resources.
£50 could help us bring the wonder of our seas into Scottish classrooms by funding our marine loan boxes. Loan boxes are shared for free with schools around the country.
£100 could help us conserve our fragile coastal habitats, by funding a volunteer work party. Time volunteering in nature is especially beneficial for vulnerable adults.
£250 could help us protect critically endangered puffin populations, funding an SOS Puffin mission to clear invasive Tree mallow from local islands in the Firth of Forth. Tree mallow blocks the Puffins' burrows and can have a devastating affect on their breeding.
£500 could give a group of children their first hands-on experience of our amazing Scottish coastal wildlife, providing a free bus and activity session for 30 children from urban areas.
£1000 could support our citizen science activities giving people an opportunity to learn more about our marine environment, by contributing data to local or national schemes, and taking part in habitat restoration projects.
As an individual you can support us by:
You might want to try fundraising for us, by doing your own puffin face-painting, gannet fun run or seal swim. Whatever it is, make it fun!
As a company: you can become a corporate member, strategic partner, or project sponsor. You can ask your staff to fundraise for us – we're always happy to talk through any ideas – or raise awareness of our cause.
Via social media: you can help to raise awareness of our important work via facebook, twitter or instagram.
If you'd like to talk to us about how you could support our work, please don't hesitate to get in touch and email fundraiser@seabird.org.
Thank you for your support!