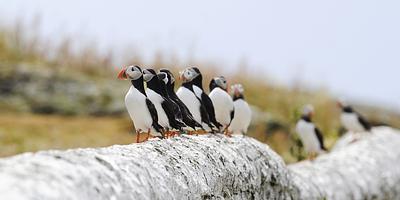 Fundraising
Support our education and conservation work
There are lots of ways to support our charity. Our café, Discovery Experience and retail all help to raise money for our charitable activities, but we rely on additional fundraising so that we can plan, develop and deliver our important work, especially our learning programmes.
Every little thing you do really does count. For example:
£20 could help us inspire children to develop a life-long love of nature by funding science and learning resources.
£50 could help us bring the wonder of our seas into Scottish classrooms by funding our marine loan boxes. Loan boxes are shared for free with schools around the country.
£100 could help us conserve our fragile coastal habitats, by funding a volunteer work party. Time volunteering in nature is especially beneficial for vulnerable adults.
£250 could help us protect critically endangered puffin populations, funding an SOS Puffin mission to clear invasive Tree Mallow from local islands. Tree Mallow blocks the Puffins burrows and can have a devastating effect on breeding.
£500 could give a group of children their first hands-on experience of our amazing Scottish coastal wildlife, providing a free bus and rock-pooling session for 30 children from urban areas.
As an individual: you can become a member or a friend.You can volunteer, make donations or even buy a wildlife adoption. You can even consider remembering us in your will with a legacy.
You might want to try fundraising for us, by doing your own puffin face-painting, gannet fun run or seal swim. Whatever it is, make it fun!
As a company: you can become a VIP member, strategic partner, or sponsor. You can ask your staff to fundraise for us – we're always happy to talk through any ideas – or raise awareness of our cause.
Via social media: you can help to raise awareness of our important work via facebook, twitter or instagram.
Thank you for your support!