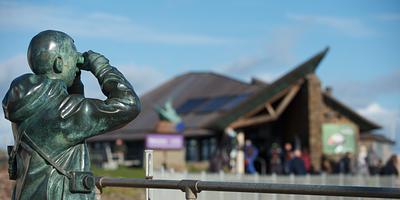 About us
Inspiring people to care for our marine environment
What we do
For over 20 years the Scottish Seabird Centre has been helping people to learn about Scotland's marine wildlife, habitats and iconic seabirds. Our base on the edge of the Firth of Forth in the seaside town of North Berwick, East Lothian gives us unparalleled access to amazing coastal seascapes and underwater environments. These include the Bass Rock which supports the world's largest colony of northern gannets.
We use the resources within our 4-star visitor experience, our education and outreach programmes and online to help people have a fun and informative experience of the marine wildlife and habitats in the local area and around Scotland. These resources include our interactive, live camera feeds from nearby islands, a range of interpretation and interactive, mechanical and digital exhibits, STEM (science, technology, engineering and mathematics) workshops for schools, wildlife and school holiday clubs, our popular live science shows and 'Meet the Scientist' events. We also offer wildlife experience boat trips, with local private operators, that help people get up close to nature.
We participate in projects that help to protect Scotland's internationally important breeding seabird colonies and improve the quality of our coastal and marine environment. We also engage with projects that are building up a picture of the health of Scotland's marine environment and encourage people to get directly involved by participating in citizen science projects.
We love nothing more than getting people out-doors to experience Scotland's marine environment. It helps them to grow their knowledge, skills and confidence as well as benefitting their physical and mental health too.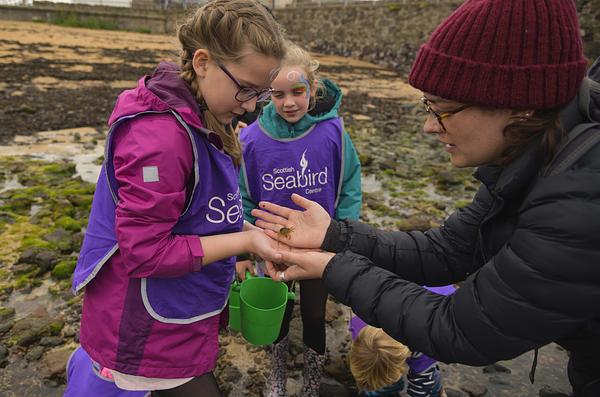 Our Vision
Our vision is 'to ensure that Scotland's marine environment is healthy, wildlife-rich, valued and enjoyed by all'. This vision is increasingly shared by others, with the growing public awareness of the importance of our marine environment and the pressures on these.
Our Purpose
Our purpose is to inspire and educate people about the Scottish marine environment so that they are motivated to finding ways to care for it, including supporting and volunteering for conservation projects.
Our values
Our values underpin everything we do. We take pride in bringing these to life in all that we do. We are:
PASSIONATE

about Scotland's coastal and marine environment.

INSPIRE

others to explore and care for Scotland's coastal and marine environment.

INNOVATE

with the approaches we use to engage with people.

COLLABORATE

with local and national partners to convey the importance of Scotland's marine environment.

INFORMED

about the current health of Scotland's marine wildlife and habitats and the actions required to protect it.

TRUSTWORTHY

providing reliable information and acting with integrity and without bias.