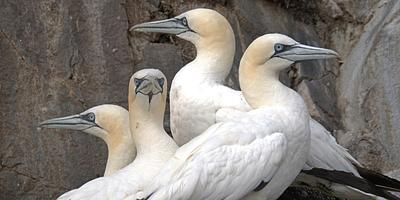 Disease
AVIAN FLU IN SCOTLAND'S SEABIRD COLONIES [Updated 24 July 2022]
EMERGENCE OF AVIAN FLU
The first signs of Highly Pathogenic Avian Influenza (HPAI) in Scottish seabirds was detected in great skuas in colonies in Shetland, Orkney and St Kilda at the end of the 2021 breeding season. This was just before these seabirds migrated back to Africa where they over-winter. The disease was then found in Northern gannets in the seabird colonies on the National Nature Reserves of Noss and Hermaness, which are managed by NatureScot.
Given the outbreak in the North of Scotland we increased the level of surveillance on the Bass Rock - the world's largest Northern gannet colony - increased. The first signs that we may have avian flu there came in late May 2022 when higher than usual numbers of gannets were found washed up along the East Lothian shoreline. In early June dead gannets were also detected using the Scottish Seabird Centre's interactive wildlife cameras on the Bass Rock. Two of these dead birds were brought off the island for testing by Defra's laboratories, along with some birds from North Berwick beaches, and it was not long before the news came back that everyone had feared - HPAI (sub-type H5N1) was confirmed. This was a big blow!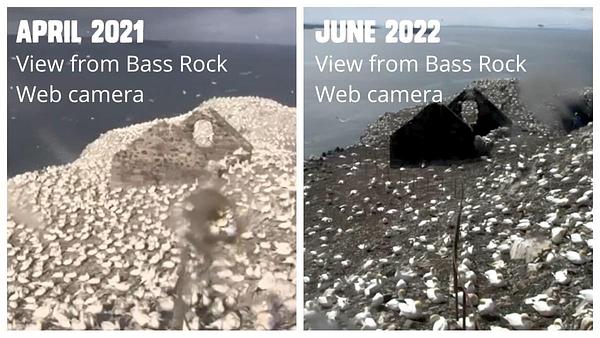 ORIGINS OF AVIAN FLU
Whilst Low Pathogenic Avian Influenza (LPAI) has circulated in wild bird populations for many years, this deadly (highly pathogenic) strain is a relatively recent occurrence. It is reported to have come from intensive poultry settings in South-East Asia. The other notable recent occurrence of avian flu was in the winter of 2021 when thousands of Svalbard barnacle geese around the Solway Estuary in South-West Scotland died, resulting in an estimated 38% decrease in the flyway (migration route) population which was 39,700 birds in 2020/21.
SPECIES AFFECTED
Many seabird species have now tested positive for HPAI H5N1 and the number of species and sites has increased throughout the breeding season. By the middle of July 2022 NatureScot were reporting that 28 different species across 142 locations in Scotland were affected.
The range of species includes common buzzard, greylag and Canada geese, eider ducks, arctic tern, sandwich tern, guillemots, razorbill, kittiwakes, puffins and herring- and black-backed gull, fulmar, cormorant and shag. None of these have yet been affected to the same extent as the levels of mortality being witnessed in great skuas and Northern gannets, although numbers of guillemots were rising to more signficant number by mid-July.
BASS ROCK - NORTHERN GANNETS
The full scale of the impact of avian flu on the Bass Rock Northern gannet colony has not yet been fully assessed, although thousands of gannets have died. As the disease hit the colony at the start of the breeding season the effect is likely to severe with adult birds dying and nests, eggs and chicks being deserted or predated. This means fewer young birds will be recruited back into the population next year and, as a long-lived species that does not breed until it is 4 years or older, it will take the colony several years to recover from this disease. You can find out more about the Northern gannet in our species profile or through our gannet life-cycle learning video resource.
As Scotland supports 56% of the global population of Northern gannets, and with the Bass Rock being the largest colony in the world, what we are seeing will have an impact at the global population level. IUCN (International Union for Nature Conservation) currently list northern gannets as being of least conservation concern whilst the latest UK Birds of Conservation Concern 5 lists the species as amber rated.
A drone survey of the whole Bass Rock northern gannet colony was flown at the end of June 2022 in collaboration with the University of Edinburgh. The scale of dead birds will now be counted from the still images from the survey and will be used to assess the % loss in the colony.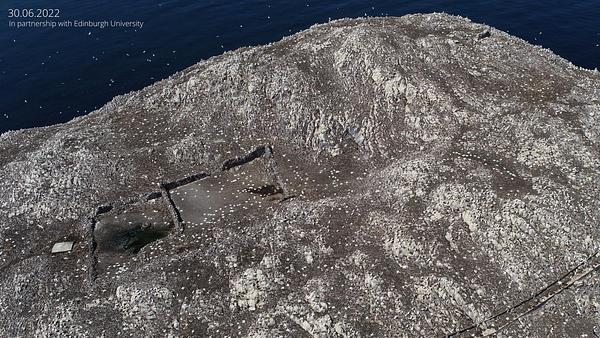 SURVEILLANCE AND RESEARCH
Monitoring of our seabird colonies is co-ordinated through the Seabird Monitoring Programme. Surveyors, visit coastal and inland sites each year to count numbers of breeding seabirds (25 species) and, where possible, their chicks to monitor breeding success. The programme also forms the basis of a full census of seabird colonies that takes place every 20 years. The most recent results from the Seabird Monitoring Programe were published by the UK Joint Nature Conservation Committee (JNCC). Co-ordination of the programme recently (July 2022) transitioned from the JNCC to the British Trust for Ornithology (BTO).
Enhanced surveillance of our seabird colonies is required to assess the level of mortality and the rate of spread of avian flu, as well as further observations and research to learn more about how the disease presents itself clinically in wild birds. More science is required to better understand the pathways that HPAI spreads though and the biosecurity steps that can be taken to minimise spread in future. We welcomed the recent announcement by the UK Government of further research into the disease - Avian flu research consortium.
NatureScot moved, in mid-July, to establish a Task Force to respond to the scale and prolonged outbreak of avian flu.
GUIDANCE FOR LAND MANAGERS AND PUBLIC
Given the scale of the situation on the Bass Rock, the Scottish Seabird Centre took the decision to supsend all its specialist Bass Rock landing trips in early June 2022.
In late June 2022 NatureScot took the decision to close the Isle of May National Nature Reserve to visitors from the 1 July 2022 in response to the avian flu situation. You can read their media statement here.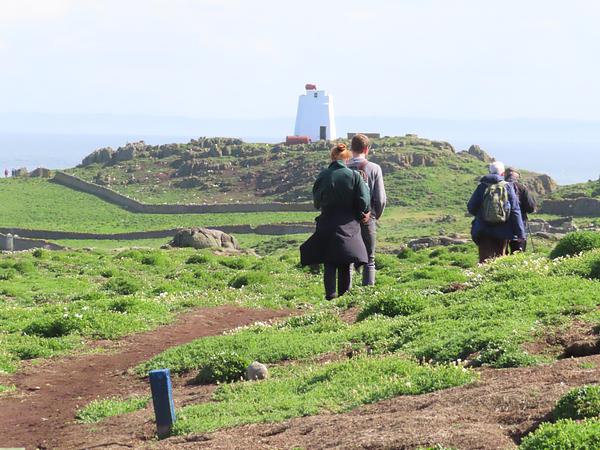 Details of an alternative wildlife boat trip offer to our customers can be found here.
Following the announcement of the establishment of the task force, NatureScot published guidance for site managers advising that people should not land on a number of seabird islands, to reduce disturbance and the risk of spreading the disease further, until the end of the breeding season. The locations and dates are:
Until end of August for breeding puffins, Arctic skuas and Arctic terns
Orkney - Calf of Eday, Swona & Muckle Skerry
Firth of Forth – Craigleith, Inchmickery, Isle of May
Until mid-September for breeding great skuas, common terns, cormorants and fulmars
Shetland - Noss
Argyll - Glas Eileanan (Sound of Mull)
Firth of Forth – Lamb and Fidra
Until mid-October for breeding gannets, storm-petrels and Manx shearwaters
Shetland - Ramna Stacks & Gruney
Western Isles - Flannan Isles, North Rona & Sula Sgeir, St Kilda (Dun, Soay, Boreray, Stac an Armin and Stac Li - excluding the main island of Hirta)
Highland - Priest Island
Argyll - Treshnish Isles
Firth of Forth – Bass Rock
RISK TO PUBLIC HEALTH
Scottish Government's advice remains that the risk to human health from avian flu is very low. East Lothian Council's advice to the public is:
Do not pick up or touch dead or sick wild birds;
Keep pets/dogs away from any dead or sick birds;
Do not feed wild waterfowl;
Do not touch wild bird feathers or surfaces contaminated with wild bird droppings; and
If you keep poultry or other birds, wash your hands, and clean and disinfect your footwear before tending to your birds.
CONTACT NUMBERS FOR REPORTING DEAD OR SICK/INJURED BIRDS
Report (more than 5) dead birds to Defra (Department for Environment Food and Rural Affairs) on 03459 335577. Sick or injured birds to the SSPCA (Scottish Society for the Prevention of Cruelty to Animals) on 03000 999 999.
REPORT A TAGGED OR RINGED BIRD
If people see a tracking devices/leg rings on birds these can, if it's possible to do so without touching the bird, be reported to the British Trust for Ornithology via the link here.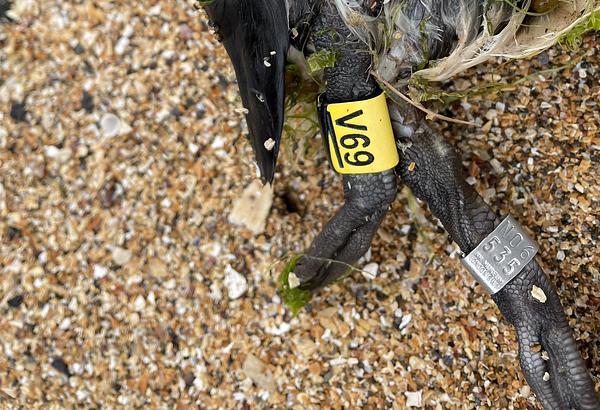 HOW YOU CAN HELP