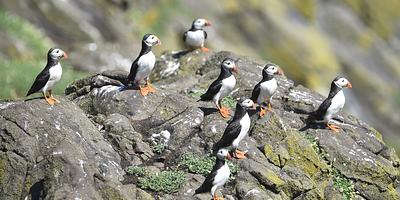 COMMUNITY ACTION PROTECTS ENDANGERED SEABIRD POPULATIONS
The Lamb, a small island just off the East Lothian coastline, has been declared free from invasive predators following a successful project to remove a rat, after rodent signs were discovered on the island in Autumn 2020. The response has been led by a dedicated team of volunteers from the Lothian Sea Kayak Club, and supported by the Scottish Seabird Centre, the Biosecurity for LIFE project, and the RSPB.
Seabirds are the fastest declining group of birds globally, with species like black-legged kittiwakes and Arctic skuas suffering from severe long-term declines. There are many reasons seabirds are suffering, but invasive non-native species, especially invasive predators, are one of the top three threats to seabirds globally.
An invasive predator is an animal that has been introduced to an island outside of its natural range. One of the ways they impact native species is by eating the eggs and young of ground-nesting birds. Unfortunately, seabirds can't defend themselves from these skilled hunters and they can have a catastrophic impact on breeding colonies.
This community-led success story was made possible by a small team of experienced kayakers, led by Tim Gibson, Chris Gordon, and Neil Black. In total, they made 35 trips out to the island by kayak to control and monitor rats – concluding through the use of motion-triggered cameras that there was likely only one individual rat present. The Lamb is very difficult to access using larger boats and this project simply would not have been possible without the hard-work and commitment of the Lothian Sea Kayak Club volunteers.
This vital conservation work is underpinned by the Biosecurity for LIFE project. Since the project launched in 2018 the Biosecurity for LIFE team has worked with 42 seabird island Special Protection Areas around the UK to raise awareness of the threat of invasive predators on islands, and to put systems in place to prevent accidental introductions to these important seabird breeding colonies.
With their help, the Scottish Seabird Centre will continue to work with volunteers to monitor for signs of invasive predators on the Lamb and oversee surveillance measures on Craigleith and Bass Rock to protect these internationally important seabird habitats.
Emily Burton, Conservation Officer at the Scottish Seabird Centre said: "It is a huge relief to know that the Lamb is free of invasive predators, ready for the seabird breeding season ahead. Some incredible birds including puffins, kittiwakes, cormorants, and guillemots will be returning to a safer island to breed this spring, thanks to the tireless dedication of our kayak volunteers over the past 16 months. The support and expertise of the Biosecurity for LIFE team has been invaluable in tackling this challenge, along with the RSPB who have supplied resources and advice. I think this project is a testament to the things that are possible when conservation charities and communities collaborate to protect wildlife, in a time when nature urgently needs our help."
Sarah Lawrence, Biosecurity Officer with the Biosecurity for LIFE project said: "The dedication of Lothian Sea Kayak Club's volunteers on the Lamb is a fantastic example of a community coming together to protect their local seabirds. The volunteers have spent two winters navigating harsh weather, covid restrictions, and the frustrations of seeking a very elusive rat – and thanks to their hard work we are confident that the Lamb's puffins and other seabirds will return to nest on a rat-free island this year. It's been a pleasure to work with the Scottish Seabird Centre and Lothian Sea Kayak Club on this project, and we look forward to continuing this collaboration to protect the Forth Islands SPA from the arrival of invasive predators in the future."
Neil Black, one of the kayak volunteers who supported the project, said: "I was really pleased to have been involved in this project and I now have a better understanding of all the cooperation that goes on between different conservation bodies to achieve an overall aim…It certainly helped mentally to be doing something constructive within our sport to help the environment, as part of the enjoyment of kayaking is always the interaction with nature."
ENDS
Blogs for more information about invasive predators and the project on the Lamb:
Scottish Seabird Centre
The Scottish Seabird Centre is an award-winning conservation and education charity whose purpose is to inspire and educate people about the Scottish marine environment and motivate people to care for it by supporting conservation projects.
The Charity's work is supported by its 5-star visitor experience. The Centre contains a wide variety of story boards, digital interactives, virtual reality and remotely operated cameras that enable people to experience and learn about the spectacular wildlife of Scotland's marine environment.
In May 2021 the Charity celebrated the 21st anniversary of the opening of its Visitor Centre doors the public and over the years has won multiple awards for tourism and sustainability. It has led a range of high-profile conservation and education projects including the SOS Puffin initiative in the Firth of Forth.
The Centre's 2019 refurbishment was made possible through major funding from the Coastal Communities Fund and Wolfson Foundation, as well support from Scottish Enterprise Foundation, the Hugh Fraser Foundation, the Robertson Trust, the Ellem Foundation, the Dulverton Trust and other generous donors, including the Charity's own Founding/Life members and volunteer group.
Follow the Scottish Seabird Centre on Facebook/ScottishSeabirdCentre. Twitter @SeabirdCentre and Instagram @seabirdcentre
For more information on the Scottish Seabird Centre visit www.seabird.org
Biosecurity for LIFE
Biosecurity for LIFE is a partnership between RSPB, National Trust, and National Trust for Scotland, it is funded by EU LIFE Environmental Governance and Information [LIFE17 GIE/UK/000572], NatureScot, Natural England, and the Department of Agriculture, Environment and Rural Affairs (DAERA).
Biosecurity is the practice of protecting places from the threat to wildlife posed by introducing new diseases or types of plants or animals that do not naturally occur there. Seabirds often choose to nest on islands with no land predators and are particularly vulnerable to introduction of invasive predators.
The Biosecurity for LIFE project is working to raise awareness of the threat posed by invasive predators, and to put systems in place to prevent their accidental introduction to the UK's 42 SPA (Special Protection Area) seabird islands.
For more information on the Biosecurity for LIFE project visit www.biosecurityforlife.org.uk.
Follow Biosecurity for LIFE on Twitter @biosecurityLIFE and Instagram @biosecuritylife.
RSPB
The RSPB is the UK's largest nature conservation charity, inspiring everyone to give nature a home. Together with our partners, we protect threatened birds and wildlife so our towns, coast and countryside will teem with life once again. We play a leading role in BirdLife International, a worldwide partnership of nature conservation organisations.