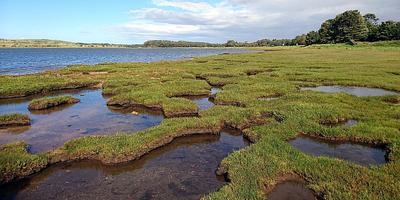 By Susan Davies, Chief Executive
A month has passed since the world's leaders met in Glasgow for COP26, the 26th Conference of the Parties that signed the UN Framework Convention on Climate Change (UNFCCC). There were high hopes that global leaders would grasp the opportunity to produce a clear route map to keep global warming below 1.5°C by the end of the Century. Attention was focused on four key areas - mitigation, adaptation, finance and collaboration.
Even if warming is kept below 1.5°C , countries (and our seabirds, marine habitats and wildlife) will need to adapt to the severe impacts from climate change, not least sea level rise and increased storm frequency and intensity. The southern hemisphere nations will experience the greatest of these and so it is therefore unsurprising that, during the opening days of COP26, there were passionate pleas from leaders of these countries for meaningful global action.
One of these came from Mia Mottley, the Prime Minister of Barbados who said:
"Failure to provide the critical finance, and that of loss and damage, is measured my friends by lives and livelihoods in our communities. This is immoral and it is unjust … What excuse should we give for the failure? When will we as world leaders across the world address the pressing issues that are truly causing our people angst and worry, whether it is climate or vaccines. Simply put, when will leaders lead. Our people are watching, and our people are taking note. And are we really going to leave Scotland without the resolve and ambition to save lives and to save our planet."
Hope versus reality
The reality is that the global leaders, and their negotiators, did leave Scotland without resolving some of the fundamentals and left the world on a course towards at least 2.4 °C. This means that one of the most significant threats to our marine wildlife and ecosystems remains very real. Despite the inevitable disappointment there were some important changes in direction which keep the process (and hope) alive. These include:
Negotiations are now much more informed and led by the science, rather than this being questioned and counteracted at every turn.
A commitment to return on an annual basis, rather than every 5 years, to review the progress countries are making towards their Nationally Determined Contributions (NDCs). The NDCs set out how each country plans to reduce its emissions and adapt to climate change. An annual review signals an important shift in understanding about the need for pace behind and scaling up of the actions and finance required.
A spotlight was firmly turned on the effects of methane as a greenhouse gas, with over 100 countries signing up to the Global Methane Pledge to reduce emissions by 30% by 2030.
Greater recognition of the need for support, and more financial contributions, to help developing countries introduce adaptation measures that will increase their resilience to climate risks. Further finance is still required but progress will now be subject to a biennial review.
Agreement reached on the rules for carbon trading. Importantly these establish a process which will prevent double-counting, in which more than one country could claim the same emissions reductions as counting toward their climate commitments.
Increased commitment towards nature based solutions as an integral part of the solution, including important multi-year commitments from the Scottish Government towards a

Nature Restoration Fund

(£55 million over 5 years) and a commitment from the UK Government (£6 million) to a World Bank Fund called

PROBLUE

that tackles a range of marine issues.
Increased recognition of the important contribution, to carbon storage, that blue carbon (saltmarsh, coral reefs, seagrass meadows and marine sediments) makes, provided that these habitats are protected and restored.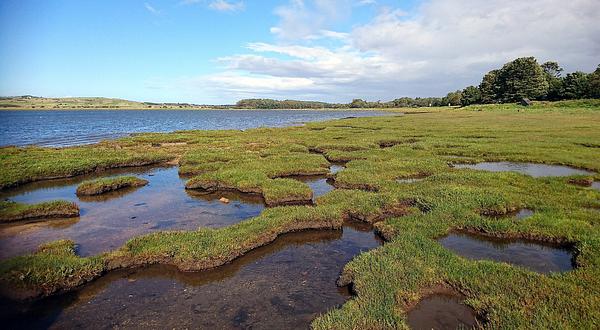 We asked our Chairman, Stuart Housden for his reflections on COP26.
He said "Reflecting on the highs and lows from the Conference of the Parties is a mixture of relief, and hope (just!) but also brings home the enormity of the challenge ahead for all of us. On the positive side the debate as to whether our actions are the cause of rapid rises in carbon dioxide levels in the atmosphere seems to be largely over. The sceptics gained no real traction.
Second, the rise of the youth and civic society voices from across the globe was heartwarming. It was amazing to read of tribal leaders from Amazonia visiting rainforest in Scotland (yes we have temperate rainforests!) to find common cause with our local communities."
Stuart is right about the power of the youth and civic voice. I was in Glasgow, attending the First Minister's Environmental Council, on the day that young people marched through the streets to George Square. They wanted to ensure that their voice was heard - calling for urgent action at the political, finance, business, community and individual level. The march was peaceful, fun and a very inspiring experience. Some of our team also joined the 'biodiversity block' of the COP26 Global Day of Action and you can hear their reflections on COP26 in this Marine Matters podcast.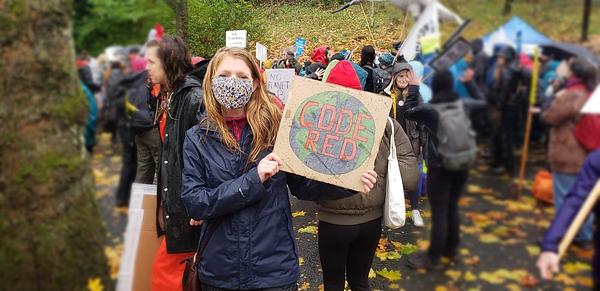 The collective voice is powerful and keeps hope alive. Our ambassador Louise Macdonald, the national director for the Institute of Directors and former CEO of Young Scot reflected that:
"Whilst not sitting at the decision-making tables, it was clear young people played a significant part in COP26, as civic leaders and activists from around the world. They made their voices heard, and were fearless in expressing both their frustration and the need for urgency. Whether it was Vanessa Nakate, Greta Thunberg or Elizabeth Wathuti, the eloquence of their calls to action were compelling."
Our voice – prompting interest, understanding and action
The Scottish Seabird Centre's role is to ensure that we make the science about climate change and its impacts on our marine environment as accessible as possible to a wide range of people. We also prompt people about the actions that they can take to reduce their carbon footprint. Some ideas can be found in our Dive In learning resources.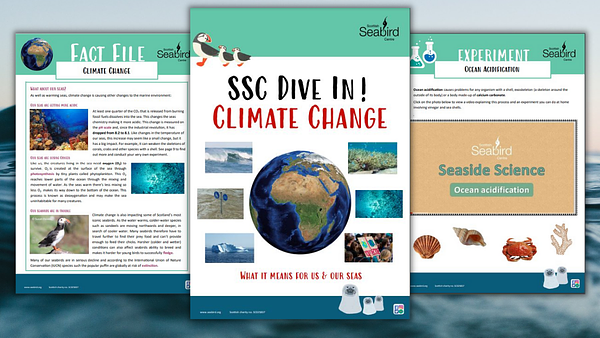 We also have a responsibility to look at our own operations and are working towards establishing a carbon tracker and action plan that sets our course towards net zero. We do not underestimate either the scale of change, or the level of investment that will be required to achieve this, and so we understand the challenges that many organisations and businesses face in taking meaningful steps.
We all have a part to play
Stuart concludes his reflections on COP26 by saying:
"But progress was made and perhaps most importantly Countries will now convene again to keep the pressure on, and hopefully see improved commitments and targets agreed over the next year. Tackling the climate emergency requires us all to change our lifestyles. This will not be easy. But change we must. Technological developments will offer some wins, but we are so far along the curve to seeing run away impacts with global temperature rises over 2 °C, that technology will not be enough. Our responsibility at every level is to reduce our demands on the planet's resources and make choices that curb our emissions. As a proud grandfather it is their future that must inspire my actions, and I hope you too will take up that challenge."
So, as we head into a new year let's all just pause to identify and make the changes that we can take ourselves. Whilst COP26 did not go nearly far enough the COP26 Glasgow Climate Pact was nonetheless a step in the right direction. We need to ensure that space is created in which people can continue to voice their views on what Governments, banks, businesses and communities need to do to achieve net zero in a way that is just and fair.