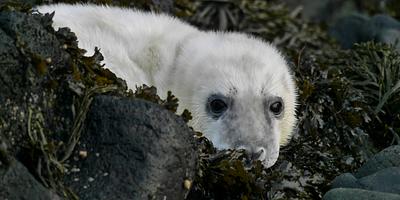 Responsible Wildlife Watching
Scotland's seas and shorelines are home to some of the most incredible wild animals in the world, from basking sharks and humpback whales to puffins and hermit crabs. We want people from all backgrounds to connect with nature along the coast and enjoy unforgettable wildlife experiences.
There are lots of ways to experience the marine environment, including coastal walks, boat trips, sports, photography, and many other exciting recreational activities. However, people enjoying marine spaces can sometimes unintentionally cause disturbance or distress to wildlife, or damage precious marine habitats.
According to the Guide to Best Practice for Watching Marine Wildlife, disturbance is: "The result of direct or indirect interaction with people that changes the behaviour of an animal or changes the environment, which in turn affects the well-being or survival of an animal in the short, medium or long term."
Understanding wildlife disturbance and minimising your impact might not be as simple as you think. Different species can react very differently to direct and indirect human interaction. Below is some guidance on how you can enjoy the marine environment responsibly, without having a negative impact on the wildlife and habitats around you.
Wildlife-Friendly Boat Trips
Plenty of incredible marine species can be seen without leaving dry land. However, if you choose to head out on a boat trip, it's best to seek out accredited, wildlife friendly operators who will help you to enjoy wildlife in a manner that respects their wild nature. Find a responsible, WiSe accredited Boat Operator or Wildlife Guide by visiting the WiSe webpage HERE.
Wildlife and the Law
· The Wildlife Trusts explore a full, detailed list of laws relating to UK wildlife HERE.
· The RSPB look at how wild birds are protected in the UK HERE.
· You can read the general Scottish Government webpage on Wildlife Crime HERE and NatureScot's Wildlife Crime page HERE.