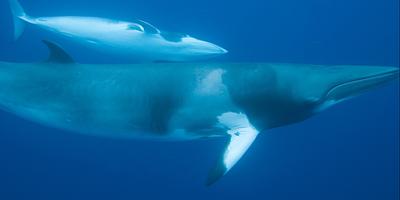 Minke Whale
Balaenoptera acutorostrata
What do they look like?
This species is a baleen whale. This means it has plates in its mouth which are lined with what look like hairs for filtering food from the seawater. Minke whales are the smallest of the UK's baleen whales.
Minke whales have dark backs and pale undersides. They have flat, pointed heads and characteristic 'armbands'—a single white band—on each of their front flippers. A minke whale's dorsal fin (the fin on its back) is closer to its tail than its head, about two thirds of the way down its body. Their blows (expulsion of air from the blowholes - they have two!) are difficult to notice as they are weak. The minke whale's throat is ridged with many flexible pleats.
Where can I see them in Scotland?
Minke whales are found throughout the UK's seas but are most common around Scotland and the west coast of Ireland, as they prefer cooler waters to feed in. The summer months are a good time to spot minke whales around the British Isles.
These whales are unlikely to be found in large numbers as they prefer to swim by themselves or in smaller groups.