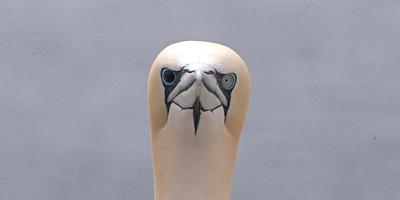 Avian Flu
In seabird colonies around Scotland
Highly pathogenic avian influenza (HPAI) in Scottish seabirds was first detected in Great skua colonies in Shetland, Orkney and St Kilda at the end of the 2021 breeding season, just before the birds migrated to their overwintering territories in Africa. HPAI was detected in the northern gannets connected to the world's largest colony – the Bass Rock – in mid-June 2022. Another notable incidence of HPAI was in the winter of 2021 when thousands of Svalbard barnacle geese around the Solway Estuary in south-west Scotland died, resulting in an estimated 38% decrease in the flyway population.
Low pathogenic avian influenza (LPAI) has circulated in wild bird populations, at low levels, for many years, but HPAI is a relatively recent occurrence in wild birds although it is much more common in poultry settings. The disease is spread via saliva and faeces.
We are in unchartered waters in terms of predicting what the scale of the impact on the Bass Rock northern gannet colony will be. As the disease hit the colony at the start of the 2022 breeding season the effect is likely to be significant. As a long-lived species it will take the colony several years to recover from this disease. You can find out more about the Northern gannet in our species profile or through our gannet life-cycle learning video resource.
As Scotland supports 56% of the global population of northern gannets, and with the Bass Rock being the largest colony in the world, what we saw in 2022 will have an impact at the global population level. IUCN (International Union for Nature Conservation) currently list northern gannets as being of least conservation concern whilst the latest UK Birds of Conservation Concern 5 lists the species as amber rated.
We will be assessing the scale of the impact on the Bass Rock Northern gannet colony over the course of the 2023 breeding season and would hope to repeat surveys in future years to monitor the colonies recovery.
Species affected by avian flu
Although the main species to be affected at scale are Great skua and Northern gannets, other species also tested positive in 2022. These include common buzzard, greylag and Canada geese, eider ducks, arctic tern, guillemots and herring- and black-backed gull. None of these have yet been affected to the same extent as the levels of mortality being witnessed in Great Skuas and Northern gannets.
Assessing the scale of impact
We need proper surveillance of our seabird colonies to assess the level of mortality and the rate of spread, as well as further observations and research to learn more about how the disease presents itself clinically in wild birds. More science is required to better understand the pathways that HPAI spreads though and the biosecurity steps that can be taken to minimise spread in future. We welcome the recent announcement by the UK Government of further research into the disease - Avian flu research consortium.
Risk to public health
Scottish Government's advice remains that the risk to human health from avian flu is very low. East Lothian Council's advice to the public is:
Do not pick up or touch dead or sick wild birds
Keep pets/dogs away from any dead or sick birds
Do not feed wild waterfowl
Do not touch wild bird feathers or surfaces contaminated with wild bird droppings
If you keep poultry or other birds, wash your hands, and clean and disinfect your footwear before tending to your birds.
Contact numbers for reporting dead or sick/injured birds
Report (more than 5) dead birds to Defra (Department for Environment Food and Rural Affairs) on 03459 335577. Sick or injured birds to the SSPCA (Scottish Society for the Prevention of Cruelty to Animals) on 03000 999 999.
What do if you see a tagged or ringed bird
If people see a tracking devices/leg rings on birds these can, if it's possible to do so without touching the bird, be reported to the British Trust for Ornithology (BTO) via the link here: Reporting ringed birds. (or www.BTO.org).
How you can help
For the latest updates about research and monitoring work taking place on Bass Rock, keep and eye on our blogs here, or follow us on social media (links in the page footer).
This page was last updated June 2023.