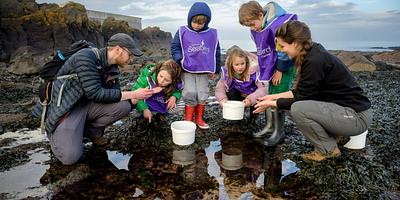 Education and Outreach Volunteer
Volunteering with Education and Outreach at the Scottish Seabird Centre
We are looking for enthusiastic individuals to help run our education sessions here at the Scottish Seabird Centre. As an Education Volunteer, you will gain first hand experience delivering STEM educational activities to students of all ages. You'll have the opportunity to inspire a generation of learners into caring for our marine environment.
The primary 4 areas you will be supporting will be:
Wildlife Club: The Wildlife Club is a fun out-of-school group aimed at teaching local primary school children all about the natural world. We meet on Friday afternoons during term time and run all sorts of activities relating to a wide range of wildlife.
Holiday Club: The Holiday Club is a STEM themed activities week based at the Scottish Seabird Centre during the school holidays. This club utilises our incredible location and delivers outdoor learning centred around science and nature.
Outreach Events: Our Learning Team take part in a variety of external events and science festivals all over the country. From Edinburgh all the way up to Orkney, outreach events are a great opportunity for us to raise awareness of Scotland's marine environment through fun, engaging resources and activities, whilst also providing information about the Scottish Seabird Centre.
Outreach Workshops & Talks: As well as participating in events and festivals around the country, we also travel to schools, community groups, and other projects for offsite workshops and talks. Topics can range from Seabirds to Climate Change and sessions can be held for audiences of all ages.
For more information and how to apply please click here.
Photograph above taken by Helen Pugh