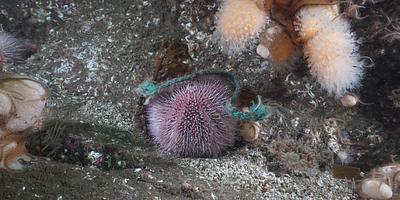 Pollution comes in a variety of forms and from a variety of human sources both on land and at sea. It is estimated that 80% of all marine pollution comes from human activity on land and enters the sea through rivers and streams. This serves as a reminder of how our behaviours on land affects the quality of our marine environments. Examples of marine pollution include:
Agricultural run-off

– when excessive use of nutrients, such as fertilisers, and chemicals from farmed areas washes into streams and rivers and flows out into our seas. Excessive use of fertiliser can result in high concentrations flowing into our seas, which in turn leads to nutrient enrichment that triggers algal blooms. The process is known as 'eutrophication' and the blooms block out light leading to the death of plants, the build-up of bacteria that use up the oxygen making it difficult for other animals to survive.

Chemical contamination

– this can come from a variety of including oil from tankers or platform spills, toxic metals that may come from industrial, mining, or metal processing sites and persistent chemicals used in everyday life. Awareness has been growing about the presence of chemicals which have been dubbed 'forever chemicals' - PFAS (Per- or Poly-Fluorinated Alkyl Substances). These chemicals are found extensively in everyday items such as food packaging, clothing and cosmetics because of their ability to repel oil and water and to lubricate things. It is these very qualities that mean that these chemicals don't easily break down when they enter our environment and they can build up in the food chains and be toxic to our marine wildlife. You can find our more about PFAS chemicals from our partner

Fidra

.

Marine litter

– the most visible of all sources of pollution is the litter that finds its way from land or from marine sources onto our shores and into our seas. Examples include waste from beach users, sewage-related debris, medical waste, shipping debris and discarded fishing lines, nets or gear. There's also a growing problem with plastic in our marine environment from discarded drink bottles, cotton buds and carrier bags. The

IPBES Global Assessment

provides a stark reminder of this with its assessment that marine plastics have increased tenfold over the last 20 years, and are impacting on 267 species, including 44% of seabirds. Marine litter in all forms can find its way into the nests of our seabirds, be ingested by seabirds or marine mammals and can cause harm by entangling them.