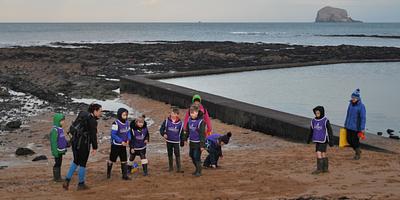 Seashore Explore
With the beach right on our doorstep, we will be having a look at the different shells and seaweeds that you can find on the shore and looking at some unusual items that can be found whilst beachcombing.
The children will begin by discussing; What do we find on the beach? Where have they come from?
Are they all supposed to be there? Then they will head out to the seashore on a scavenger hunt. Working in teams, they must find various objects during a beachcombing trek along the coast. They'll share what they find and identify items that are harmful to nature.
The children will then use what they've found as decorations for a sandcastle competition! They'll work in groups to build the most beautiful castles, and then, after explaining what they've built, they'll vote for a class winner.
We will happily adapt and modify workshops to suit your requirements.
Please refer to our Education Workshop Guide which lists Curriculum for Excellence experiences and outcomes for the 'Seashore Explore' workshop.