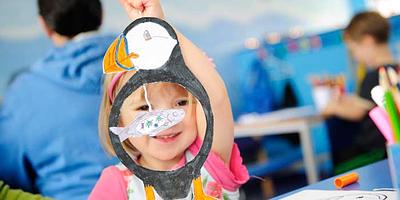 Seals and Seabirds
Dive into the fascinating lives of local wildlife in the Firth of Forth and the surrounding islands.
Children will be introduced to the islands of the Firth of Forth and the larger animals that live on them. They will then have the chance to make their very own sea creature toy: a seal beanie, a puffin mobile or a gannet puppet! Children can also head out to the beach where they will have a chance to conduct their very own seabird survey and find out who is the best birdwatcher in the class!
Book a session in the Discovery Experience to see, identify and record the animals using the interactive cameras. The species vary with the time of year: seals are visible October-December, puffins and gannets from April and throughout the summer, so there's always something exciting to see!
We will happily adapt and modify workshops to suit your requirements.
Please refer to our Education Workshop Guide which lists Curriculum for Excellence experiences and outcomes for the 'Seashore Explore' workshop.
I learned so much about seabirds and animals under the sea because of the brilliant 3D film, it was so fascinating. I even learned some new fish like sea slater. I learned new plants like sea kale and sea campion.