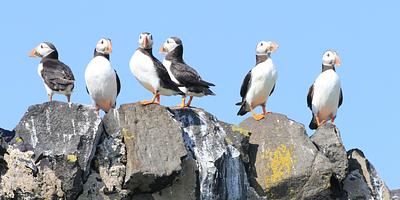 Puffin Tales
Discover the lifecycle of puffins in this magical tale as we follow Percy on his adventures in Scotland.
Our story begins in the middle of the sea when Percy hears a voice whisper 'come back to me'! Discover the story of a puffin lifecycle in this rhyming, magical tale. Look out for the tree mallow and be prepared for a splish and a splash and a splish-splish splash! Children can then relive the experience of Percy through freeplay games, art and drama activities.
Book a session in the Discovery Experience in spring or summer to see puffins live on our cameras.
We will happily adapt and modify workshops to suit your requirements.
Please refer to our Education Workshop Guide which lists Curriculum for Excellence experiences and outcomes for the 'Puffin Tales' workshop.