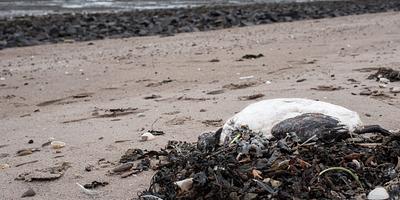 Seabird deaths along the East coast of Scotland
The Scottish Seabird Centre continues to receive daily calls from concerned members of the public about significant numbers of dead seabirds (mainly auks including guillemots and razorbills) that have been found washed up along the coastline of the Firth of Forth.
Following the devasting effects of avian flu on seabirds; especially Great skua and Northern gannets in 2022 the disease has continued to persist in the environment and caused significant mortalities in black-legged kittiwake and guillemots during the summer of 2023. Reports also indicate mass die-offs of common, Arctic and sandwich terns and gull species, including black headed, herring and common gulls.
Susan Davies, CEO of the Scottish Seabird Centre said:
"Many of our internationally important seabirds are already affected by significant pressures – climate change (affecting prey availability or leading to heat stress), invasive species, exploitation of the marine environment and marine litter and pollution. What's happening to our seabirds is a complicated picture with multiple stressors contributing to past and current declines.
Some of the guillemot carcasses recently collected along the East coast tested negative for avian flu. Scientific experts are suggesting that starvation, due to a lack of prey availability through climate change impacts, could be contributing to some of these auk deaths.
It is more important than ever for Scottish Government to accelerate the production of a Scottish Seabird Conservation Strategy and to put in place actions that will help reverse the downward trend in many seabird species. Without urgent action iconic seabirds, including puffins, could be extinct within 30 years.
The public are advised to continue to avoid direct contact with seabird carcasses or ill birds and to report these to the relevant authorities. Sick or injured birds should be reported to the SSPCA (Scottish Society for the Prevention of Cruelty to Animals) on 03000 999 999. One or more dead bird of prey, gull, swan, goose or duck in the same place; or five or more dead wild birds of any other species should be reported via DEFRA's (Department for Environment, Food & Rural Affairs) online tool: https://www.gov.uk/guidance/report-dead-wild-birds and to the relevant countryside ranger team.
Dead birds are also being tracked through the BTO Bird Track data collection App, allowing researchers to follow the geographical spread of dead birds.
The Scottish Seabird Centre is involved a range of projects to help better understand what is happening to seabird populations and practical activity to reduce pressure; especially on islands within the Firth of Forth. This includes the award-winning SOS puffin project, biosecurity activities, survey and monitoring and landscape scale projects such as Restoration Forth which are looking to restore seagrass and native oyster habitats that will improve the overall health of the marine environment. The Charity also plays a leading role in ocean literacy through its visitor attraction in North Berwick and education and outreach programmes.
ENDS
For further press information:
· Jess Thompson, Marketing Manager, email marketing@seabird.org, tel: +44(0)1620 890202.