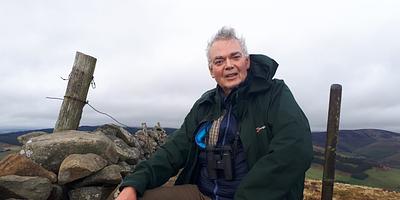 Scottish Seabird Centre appoints new Chair
Leading nature conservationist appointed as Chair of the Scottish Seabird Centre
Award-winning marine conservation and education charity, the Scottish Seabird Centre, has appointed Stuart Housden, OBE as Chair of its Board of Trustees.
Formerly RSPB Scotland's Director, Stuart brings a wealth of charity experience and networks to the role, alongside a life-long knowledge and passion for nature conservation. He is currently a member of the National Lottery Heritage Fund where he has continued to be an advocate of the need to invest in Scotland's natural assets.
Announcing the appointment, Susan Davies, CEO of the Scottish Seabird Centre, said: "We are delighted that Stuart has been selected as our new Chair. His appointment is particularly welcome as we enter the United Nations Decades of Ocean Science and Ecosystem Restoration, and step up our own work to support these global commitments to reverse the damage to our marine environment and the decline in many of our iconic seabirds. These global initiatives provide a backdrop to why it is so important that we continue our conservation, learning and science communication activities in Scotland.
"Although this continues to be a challenging time for our charity, with the doors to our visitor centre once again closed under the latest COVID-19 restrictions, we are optimistic about the future.
"In Stuart we have someone who is ideally placed to quickly pick up the reins from our retiring Chair David Windmill, who expertly steered the charity for eight years, not least through these most turbulent times."
Speaking about his new role Stuart said: "I am honoured to have been selected to chair the Scottish Seabird Centre, and look forward to meeting the many volunteers, and supporters that have achieved so much in the charity's first 20 years.
"Scotland's marine environment, and the incredible numbers of seabirds that travel the oceans to either nest, or winter around our coasts each year, are of truly international significance. We take them for granted at our peril, and they serve as a barometer of the health of our coasts and seas. Sadly a number are in rapid decline.
"Our marine environment is under considerable pressure, from the effects of climate change and how we use the seas, with fishing, offshore developments and marine litter amongst the more obvious issues. The Scottish Seabird Centre will, I hope, play a vital part in a future partnership working to find and encourage the recovery of Scotland's marine wildlife resources, by informing more people about the positive actions they can take, so providing even greater benefits for people across Scotland. We want these great marine wildlife spectacles to continue to inspire future generations and enthrall visitors from far and wide.
"The charity is lucky to have such a dedicated and professional staff team, who are well placed to build on past successes.
"I would like to thank David Windmill for his wisdom and hard work these past 8 years, he hands on the reins with the charity in sound health."
The Scottish Seabird Centre's change in Chair comes at a time when the charity is looking towards a brighter future building on the success of the recent refurbishment of its marine Discovery Experience, and an increased focus on its conservation and education charitable activities.
The charity received widespread support, including from naturalists and TV personalities Chris Packham and Simon King, in response to its urgent COVID-19 funding appeal in Spring 2020.
ENDS
For further press information contact:
Jess Thompson, Marketing Manager, email: marketing@seabird.org; tel: +44 07748908027
Notes to Editors
Biography - Stuart Housden
Stuart is a B.Sc Hons. Zoology graduate (special project Marine ecology) and he joined the staff of the RSPB in 1976 where he built the organisations policy, planning and advocacy programmes. He trained in strategic business management at Henley College before becoming Director of RSPB Scotland in 1994 and a member of its UK Board.
His work as a Board member of the RSPB, involved developing strategic plans that saw the considerable growth of the organisation in terms of public support, income and impact. Under Stuart's guidance the membership of RSPB Scotland increased fourfold, and income tenfold. Stuart was successful in winning several large and complex EU Life, HLF, SNH funded projects for example restoring 4000 ha of peatland in the Flow Country, or removing black rats predating important seabird colonies from the Shiants between Skye and Harris. He retired from RSPB in October 2017.
He was made an OBE in 2005, awarded an Honorary Fellowship by Scotland's Rural College (SRUC) for services to farming and conservation in 2009 and became an Honorary Fellow of Scottish Environment link in 2018. He is a member of the National Trust for Scotland's natural heritage advisory board.
Stuart is also currently a member of the National Lottery Heritage Fund, and until September 2020 was a member of the Water Customer Forum, a body charged with helping Scottish Water develop a new 25-year strategy.
He has participated in many Scottish Government stakeholder groups on land use matters and chaired the Rural Development Council at the invitation of then Cabinet Secretary Richard Lochhead MSP. He attended the 'Earth Summit' in Johannesburg in 2002 as a Birdlife International and UK Government delegate. Stuart served for over 7 years on the Scottish Power Environment Forum and worked closely with a number of corporate bodies to further conservation outcomes or sponsorship opportunities.
He has authored articles, scientific papers and contributed to several books, and is a regular speaker at conferences. He has considerable media experience and is the joint author of the best-selling RSPB Handbook of Scottish birds.
Personal interests
Stuart is a resident of Edinburgh, where he has lived with his music teacher wife, since 1993. He has 3 adult children and 7 grandsons. He is a keen naturalist and birdwatcher and supports conservation efforts by a number of charities in Scotland, and further afield.
Stuart enjoys following Rugby and plays walking touch rugby for seniors! He has visited over 60 Countries worldwide birdwatching and learning about conservation, including major seabird colonies on the Galapagos, around New Zealand, Australia and South Africa.
He is a Trustee of the Gillman Trusts which support environmental work in Scotland. He is a Churchill Fellow having visited New Zealand and Australia to study marine conservation and the role of Marine Protected Areas. He is a trustee of the Brazilian Atlantic Rainforest Trust, and a board member of a Brazilian not for profit organisation REGUA restoring tropical forests and wetlands, based in Rio State.
January 2021.