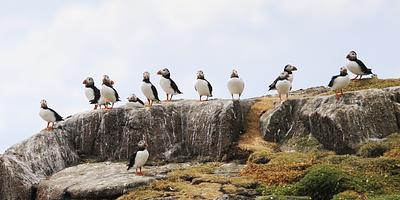 Chris Packham and Simon King issue urgent public appeal to help leading UK conservation & education charity.
One of the UK's leading conservation and education charities, the Scottish Seabird Centre, has today launched an urgent public appeal, backed by well-known naturalists, broadcasters and writers Chris Packham and Simon King. The appeal has been issued to help the charity reach a target of £200k, to ensure they survive the financial impact of COVID-19.
This is the organisation's first public appeal since opening in 2000, a move which signals the urgency of their situation. Without the support of the public the charity will not survive the current crisis.
Speaking in support of the charity's appeal Chris Packham said:
'During spring and summer our seabirds provide the greatest bird spectacles in the UK. The huge aggregations of Gannets, Guillemots, Razorbills, Kittiwakes, and of course everyones favourite, the Puffins enthral visitors to our coasts and offshore islands. The jewel in the crown is the remarkable Bass Rock, a towering guano splattered Gannet colony, the smell, the noise and the sight of all these swirling birds is simply awe inspiring. And its numbers continue to rise. The Scottish Seabird Centre situated close by on the mainland has live feeds to this and other colonies and is a fantastic educational facility and visitor attraction. A place where people can learn about the birds, their biology and their conservation . . . and have a great cup of tea and slice of cake! Making it perfect in any weather! And its recent refurbishment has made it even better. Connecting people with nature, generating an affinity for it and then drawing upon this love to prompt proper conservation has never been more important. So please do whatever you can to support the centre through these challenging times. Thank you.'
Chris Packham, naturalist, TV presenter, writer and campaigner
From a child's first experience of puffins to a magical insight into underwater habitats, the Scottish Seabird Centre brings the wonder of Scotland's seas to life through a range of projects and initiatives.
· Their award-winning SOS Puffin project has involved over 1200 volunteers and more than 300 work parties to date. The project has been a resounding success, helping the critically endangered Atlantic puffin population on the local islands to recover from a significant low in the early 2000s.
· Over 4,000 school-aged children and young people engage with the charity's education programmes annually – these encourage them to learn more about Scotland's diverse marine wildlife and motivate them to take action to conserve it. The charity arranges free travel and discounted attendance for schools from the most deprived areas of Scotland.
· The charity runs year-round events for all ages from live science shows for young children and families, to expert talks and citizen science activities.
· Their five-star visitor centre welcomes over 260,000 visitors and locals each year, making it the most visited attraction in East Lothian.
· With their expertise and resources, the charity also supports a wide range of organisations and festivals with education, outreach and engagement work. Partners include: Edinburgh Science Festival, Scottish Natural Heritage, Fringe by the Sea, East Lothian Countryside Rangers and North Berwick in Bloom.
The centre's creation was made possible thanks to an inspiring community drive which saw locals 'buying a brick' to help fund the project. Many of those involved in the original appeal continue to volunteer and engage with the charity today and it remains a thriving community hub. From these visionary beginnings the charity has grown to have national reach and has been connecting people and nature for 20 years.
All this work is now under threat as the charity faces potential closure.
The centre is highly acclaimed among leading conservations, including broadcaster and cameraman Simon King. Speaking of the charity's appeal he said:
'The seas around the British Isles, especially those around Scotland, are some of the most important for seabirds in the world. Vast throngs of gannets, puffins and many others thrive on a diet of fish and other marine life that abounds in our temperate waters. So much of this extraordinary natural spectacle goes unseen, far beyond shore on remote islands or open water.
The Scottish Seabird Centre plays a vital role in bringing us closer to the magnificent natural heritage of our seas by providing state of the art interpretation and educational facilities to many thousands of people. It is a bridge between the wild spirits of the ocean and the enquiring minds who want to discover it. In addition, it does tremendous work in the field of conservation and protection of this most precious natural asset. It's survival through these challenging times and long into the future is paramount to our continued appreciation and understanding of the entire marine ecosystem upon which our very survival ultimately depends.
Please help by supporting this appeal.'
Simon King OBE; Wildlife cameraman and broadcaster
The charity has a target of £200,000 to reach by the end of July in order to secure the future of their highly acclaimed marine Discovery Experience (a five-star visitor attraction) and vital conservation and education work. The hope is that this target can be reached through combination of grant funding and the appeal. However, it will be impossible without significant public support.
CEO Susan Davies said:
"We appreciate that these COVID-19 times are unprecedented and extremely unsettling for everyone, but we are facing a financial cliff edge. We need public support to help us come through our current closure, the period that should have been the liveliest and busiest part of our year. If we cannot secure the funds to see us through the lockdown period, we will have to take the heartbreaking decision to close, losing a 20-year legacy of conservation and education work and a valuable learning and tourism offer for East Lothian and further afield."
Although a national charity, they are entirely independent and heavily reliant on the income from their not-for-profit Discovery Experience, which was closed just ahead of the official lockdown on 19 March. All face to face education, outreach and events throughout April and May have been cancelled with the expectation that this will also be necessary in June; and potentially longer depending on the continued need for social distancing.
Having taken all possible steps to reduce costs, the charity simply cannot continue without additional support. Over their 20-year history, they have won multiple awards for tourism and sustainability and lead a range of high-profile conservation and education projects.
Public donations will support the charity through the lockdown period and allow them to get back on track to deliver, their vital education and conservation work.
Donations to their public appeal can be made via the attached coupon or through the charity's JustGiving page.
https://www.justgiving.com/campaign/SeabirdSOS
ENDS
For further press information contact: Jess Thompson, Marketing Manager, email: marketing@seabird.org; tel: +44 07748908027
May 2021.