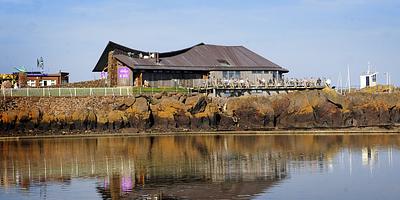 Scottish Seabird Centre Media Pack
Scottish Seabird Centre
The Scottish Seabird Centre is an award-winning conservation and education charity, dedicated to inspiring and educating people about the Scottish marine environment, motivating them to care for and support conservation projects to protect it. It is supported by a 4-star independent visitor attraction.
Based in the beautiful seaside town of North Berwick, the charity's vision is

"to help ensure that Scotland's marine environment is healthy, wildlife-rich, valued and enjoyed by all"

. They aim to deliver this by inspiring and educating people about the Scottish marine environment through the exhibits in their 4-star visitor attraction, their education and outreach programmes and award-winning conservation projects.
The Scottish Seabird Centre opened in May 2000 and has won multiple awards for tourism and sustainability. It has led a range of high-profile conservation and education projects.
The refurbishment has been made possible thanks to major funding from the Coastal Communities Fund and Wolfson Foundation, as well support from Scottish Enterprise Foundation, the Hugh Fraser Foundation, the Robertson Trust, the Ellem Foundation, the Dulverton Trust and other generous donors, including the Charity's own Founding/Life members and volunteer group.
Follow the Scottish Seabird Centre on Facebook/ScottishSeabirdCentre. Twitter @SeabirdCentre and Instagram @seabirdcentre
For more information on the Scottish Seabird Centre visit www.seabird.org
Key Facts about Scotland's marine environment
Scotland has over 18,000km of coastline, in excess of 900 islands, 61% of the UK total sea area.
The area of Scotland's seas is about 6 times the land mass of Scotland.
Scotland's seas support an amazing diversity of wildlife with over 6,500 species recorded.
A third of Europe's breeding seabirds are found in Scotland.
Underneath the water Scotland supports important marine habitats such as cold-water coral, kelp forests and flame shell beds.
Important marine species include basking sharks, dolphins, porpoises and seals. About 35% of Europe's harbour (or common) seal population also occur in UK waters with 83% of these found around Scotland's coast.
Our oceans are important natural resource for combatting the effect of climate change. 83% of global carbon cycle is circulated through the world's oceans and our coastal habitats account for around 50% of the total carbon sequestered in ocean sediments.