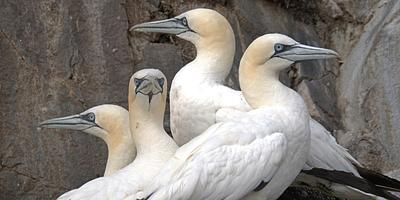 Avian Flu on the Bass Rock
The northern gannet colony on the Bass Rock has been severely disrupted by highly pathogenic avian influenza (HPAI) this year with many birds dying and others deserting the colony. Aerial counts taken at the end of June 2022 showed how sparse the colony was at that time with more than 5000 dead birds visible on the day of the count. This is a significant under representation of the total mortality level with many more dead birds washed up on our shorelines or unaccounted for at sea. Some adult colour ringed birds, which makes them easier to identify, have since returned to the colony and it appears that younger or non-breeding birds may also have taken up vacant nests. Due to the level of disruption in the colony it will not be possible to quantify the scale of the impact on the colony until further surveillance is undertaken in June 2023. We do now have some healthy gugas (gannet chicks) on the colony and we're focused on this hopeful news, as well as supporting research that will help us better understand how this disease presents itself and how long it persists in the environment.
We'd like to thank the University of Edinburgh and NatureScot with their assistance with a drone flight and image analysis respectively, as well as those who are supporting our appeal for funds to help improve monitoring on the Bass Rock, Craigleith and the Lamb in future years. We know that we will need to undertake repeat monitoring and multi-year funding will be required to achieve this in a consistent, repeatable and meaningful way.
As the seabird breeding season ends avian flu is subsiding, however, we all still need to be alert this winter to the possibility of it affecting other species, especially waterfowl and waders which often overwinter in large numbers. Raptors (birds of prey) may also be susceptible to the disease. The Defra advice remains that if you find a single dead bird of prey, three dead gulls or wild waterfowl (swans, geese or ducks), or five or more dead wild birds of any other species at the same place at the same time, you should report them to Defra's national GB telephone helpline 03459 33 55 77.
Susan Davies, CEO, Scottish Seabird Centre
August 2022