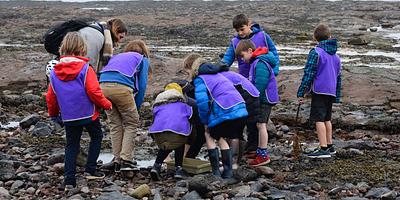 Wildlife Club
23 April - 25 June 2021
Wildlife Club fun!
Please note our wildlife club meetings are on hold until Scottish Government restrictions allow us to meet in person again. We hope to restart our face to face activity in April. We will update this page and email all registered parents as soon as we have a start date.
We cannot wait to welcome our wildlife clubbers back and hope the children are enjoying our weekly digital packs in the meantime.
The North Berwick Wildlife Club is a fun and engaging out-of-school group aimed at teaching local primary school children all about the natural world, from forests and songbirds, to the shore and the deep blue sea.
We even look at the wild side of our own gardens and parks!
We meet on alternate Fridays during term time, depending on the age group, and get involved with all sorts of activities related to wildlife. We've built outdoor shelters on the beach, taken nature trails through the local woods, hunted for everything from creepy crawlies to wild ponies, got stuck into lots of arts and crafts and headed off on some exciting trips.
You can also follow us on our Facebook page - click HERE.
We update these regularly with photos and information, so check in with us whenever you can!
With thanks to our funders the Horace Gilman Trust, the Helen Gilman Trust and the St Mary's Charity, as well as all other funding donors.
Please note, there is currently a waiting list for our Wildlife Club.
If you would like to be added to this list, please email education@seabird.org or phone 01620 890202.