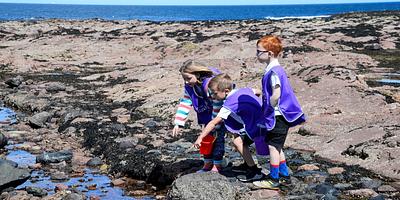 Summer Holiday Club
This event has passed.
Thanks to everyone for their enquries. Unfortunately all 3 weeks are now full.
However, if you would like to be added to our waiting list please follow the application instructions below, send your requested dates to holidayclub@seabird.org and Fran will add you to our waiting list.
We're delighted to be running our Summer Holiday Club again, with three weekly sessions running from 12 to 30 July. Our Education Officer, Fran, has prepared three fabulous fun-filled weeks of activities, all with Covid 19 safety measures in place.
The full programme is available to view HERE and dates are below.
Week 1 - Monday 12 July to Friday 16 July -

Now full (no spaces available)

Week 2 - Monday 19 July to Friday 23 July -

Now full (no spaces available)

Week 3 - Monday 26 July to Friday 30 July -

Now full (no spaces available)
The age range for the club is 5 to 11 years and maximum group size is 15. See below for full details and the link to our booking form. Covid Health and Safety information is also outlined below and in our information for parents document HERE.
Booking & payment: To book, please complete this form and email to: holidayclub@seabird.org (word version available on request from info@seabird.org). When Fran contacts you to confirm your booking, she will send a link for online payment.
Arrival: Staggered drop off between 09:00 and 09:15 am outside the Learning Hub (opposite the Scottish Seabird Centre, across the small grassy area). Children can leave their bags in the Hub and wash their hands. Please can adults remain outside of the building and observe 2m physical distancing from other households.
Collection: Children can be collected anytime between 3:15 and 3:30 pm from outside of the Learning Hub. Please can adults remain outside of the building, observe signage and maintain a 2m physical distancing from other households.
Activities
Outdoor nature and science-based activities, including daily beach explorations. Please refer to the programme for the full list.
Activities will be taking place outside and inside our Learning Hub.
Please ensure all children have suitable clothing for outdoor activities and changeable conditions (cold and wet).
Time for snack break, lunch and free play is built into each day.
Children must come with their own lunches, snacks and drinks.
Cost
The cost is £27.50 per day (minimum booking of 2 days). There is a discount for additional siblings:
Non-members: Full price for first child and additional sibling = 10% off total price
Scottish Seabird Centre Silver members – 10% off the price for each child in the family
Scottish Seabird Centre Gold members – 20% off the price for each child in the family.
Terms & conditions
Full payment must be made at the time of booking
No refunds for non-attendance/ illness or any other reason a child is not able to attend.
Refunds are applicable if cancellation is made 7 days prior to the start of Holiday Club, after this no refunds will be applicable.
If COVID-19 affects our ability to deliver or your child's ability to attend, a refund will be considered.
COVID – 19
We've made some important changes to how we operate to protect and reassure you during activities. Although things will be a little different, we hope it will be as fun as ever.
Cleaning protocols will be carried out at regular intervals throughout the day and all equipment will be sanitised between activities.
Regular handwashing with running water and soap throughout the day, including on arrival, before and after eating and after using the toilets. Hand sanitiser will be available at all times.
Do not attend if your child or anyone in your household has tested positive for COVID-19 or has the symptoms.
If your child becomes ill or show symptoms of COVID-19 whilst on-site, they'll be isolated, and you will be informed as soon as possible and asked to collect your child.
We are continuing to take our lead from, and follow the advice of, the Scottish Government/Public Health Scotland.
Please get in touch if you would like to see a copy of our risk assessment and procedures. We may have to change plans if the Scottish Government COVID-19 guidance changes.