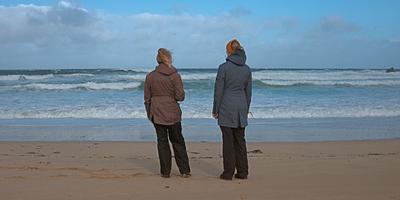 Social Beach Cleans
This event has passed.
We run a range of group events to help to clean up the coastline. Our beach clean walks primarily aim to remove marine debris from local beaches, whilst enjoying some amazing marine wildlife along the Firth of Forth shoreline with like-minded people. We will only collect what we can reasonably carry back to the centre, where the waste will be sorted, recorded, and disposed of (recycling where possible).
In the event that there is only a small quantity of debris to collect, we may choose to undertake a citizen science survey (such as a nurdle hunt) and submit the data we collect to increase understanding about marine pollution and habitats.
Friendly, quiet dogs are welcome, but we ask they are kept on a short lead throughout.
Route
All our walks currently start and finish at the Scottish Seabird Centre in North Berwick. Please click through onto the individual events below to read more about the route planned for each and how long this will take.
What will we provide?
We'll provide the beach cleaning kit, including gloves, alcohol hand gel, bin bags and pickers (for those who want them). The group leader will carry a large, waterproof backpack to carry additional debris. Binoculars will also be available to borrow for those who want them. A health and safety briefing will take place before heading down onto the shore.
What do you need to bring?
Walking boots or shoes with good grip, clothing appropriate for the weather outside, a drink and food as required, any medication you may need, a face covering, a mobile phone, sun protection (good weather days).
Accessibility
Unfortunately, this walk is not suitable for wheelchair users or those with limited mobility. Some walks may be up to 6km long, walked at a reasonable pace – please check the walk details and consider whether the distance stated is a manageable for you before reserving your spot. It is mostly easy-going and flat (along the beach), but the path does become narrow and bumpy on some routes and there may be some steep inclines/declines. Depending on the route, the path may also be parallel to a golf course for small stretches.
Keeping everyone safe
We are running these walks in-line with current COVID-19 guidelines. A maximum capacity in line with government guidelines will apply and appropriate safety measures will be taken throughout, including the thorough cleaning/quarantining of equipment before each use. We ask that everyone maintains social distancing from each other (if from different households), and wears masks when collecting equipment or when unable to maintain distancing.
Our group leader is a trained first aider and will be carrying a first aid kit and mobile phone. A copy the risk assessment for the walk will be available to view before/during the walk.
What if the beach clean is cancelled?
If this event is cancelled due to poor weather conditions or other circumstances, we will get in touch with you the day before to let you know.