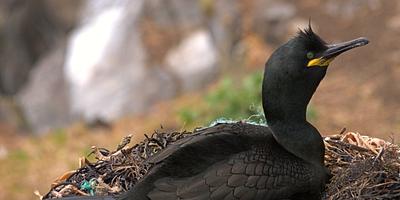 Origins of modern conservation
THE EARLY PIONEERS OF ENVIRONMENTAL PROTECTION
There's a long history to how nature conservation protections have developed which dates back to 1889 when Emily Williamson founded the Royal Society for the Protection of Birds (RSPB) to stop the practice of indiscriminate killing of wild birds which then had their feathers stripped to put into woman's hats - the fashion of the day.
In 1912 Charles Rothschild, a pioneer of nature conservation, founded the Society for the Promotion of Nature Reserves (SPNR) as he recognised that to protect wildlife you have to protect the habitats it depends on. Over the next few years this organisation co-ordinated the production of a list of 284 sites, known as the "Rothschild's Reserves", that it hoped would become protected nature reserves. It is over 100 years since Rothschild's list was first produced and whilst not all of these special places have been saved from destruction many have. This includes the Bass Rock in the Firth of Forth which has grown to be the world's largest colony of Northern gannets.
The SPNR was the start of a wider movement of local independent Wildlife Trusts forming - the first of these being the Norfolk Wildlife Trust in 1926. Today there are 46 Wildlife Trusts, including the Scottish Wildlife Trust which was formed in 1964, who work collectively together under the auspices of the Royal Society of Wildlife Trusts to ensure that nature is protected and accessible for everyone to enjoy.
ASSESSMENT AND MONITORING THE MARINE ENVIRONMENT
Since the pioneering days of conservation numerous surveys have been undertaken to discover more about our habitats and wildlife and to assess their significance in a national and international context. It was not until much later that the marine environment was surveyed, partly beacuse of the difficulties and costs involved in surveying these areas and a lack of awareness of the pressures faced.
The first comprehensive survey of marine benthic (in the seabed) habitats around the coastline was captured between 1987 and 1998 through the Marine Nature Conservation Review (MNCR). The MNCR both identified sites and species of nature conservation importance and provided information that could be used to help inform measures required to minimise the impact of development in the near shore areas (within 3 nautical miles).
The most recent complilations and assessments of the status of Scotland's seas is set out in the Marine Assessment 2020 led by Marine Scotland. The assessment fulfils part of the Marine (Scotland) Act 2010 which requires that an assessment of the state of Scotland's seas is undertaken taken to inform the development and review of the National Marine Plan.