RESPONDING TO CLIMATE CHANGE
Climate change is one of the most significant pressures on the marine environment. It affects the way in which marine systems function by altering sea surface temperatures, acidification and deoxygenation. These effects, alongside increased frequency and intensity of extreme weather events affect Scotland's internationally important seabirds, many of which are in steep decline.
To prevent climate change effects worsening, the Parties to the UN Framework Convention on Climate Change (UNFCCC) have committed to taking actions which will see global warming limited to 2oC of preindustrial levels and ideally to limit it to 1.5oC. Part of the solution to this requires a move from using fossil fuels (coal, oil and gas) to renewable sources of energy (wind, wave and tidal).
Tackling the climate crisis goes hand in hand with tackling the nature crisis and it's important that development proposals do not lead to the decline of nature.
OFFSHORE RENEWABLE POTENTIAL
Scotland's seas are a great source of renewable energy and renewable developments will be an important part of the transformative change required if Scotland is to reach its legally binding target of being 'net zero' by 2045. The Scottish Government has set out in its Offshore Wind Policy Statement an ambition to achieve a total of 11 gigawatts of offshore renewable energy by 2030 and has signalled a further increase in capacity will be required in subsequent years.
Areas with potential for offshore wind are identified through progressive phases of an Offshore Windfarm Leasing Rounds led by the Crown Estate (England and Ireland) and more recently the Crown Estate Scotland (known as the ScotWind programme). The leasing process grants property rights for seabed commercial wind developments in a way that is intended to be fair and transparent. Applications for new offshore wind projects should also be sited within the strategic locations identified in the (currently draft) Sectoral marine plan for offshore wind energy.
OUR POSITION
We value the contribution that offshore renewable developments (wave, tidal and offshore wind) can make to the decarbonisation of the energy sector. There are also new opportunities emerging to create green hydrogen through electrolysis using the energy created from renewable sources. Offshore technologies are, however, still relatively new. The technology is still being developed and tested, along with the need to understand its impact on the environments and species where it is deployed.
It is important that offshore renewables are deployed in ways that do not significantly damage the marine environment and its wildlife. We need the right type of technology, at the right scale and in the right place. How we respond to individual applications is set out the last section of this policy, but we want to ensure that developers – directly or cumulatively - avoid or effectively mitigate impacts on Scotland's internationally important seabird populations.
Technology and markets also need to develop to ensure that renewable energy can be stored and distributed in a consistent way. Developments need to take account of the fact that we also face a nature crisis with nearly half (49%) of Scotland's nature reported to be in decline. The Scottish Breeding Seabird Indicator shows a decline of 38% since 1986 with numbers levelling at a new low since 2011, thus further adverse pressures on them need to be avoided. A BTO report on climate change impacts on UK breeding birds also highlights some worrying declines, including an 89% decline in Atlantic puffins by 2050.
Further research on the likely impacts of offshore wind developments and how to manage these is being taken forward through a research collaboration known as ECOWind and this research will help inform marine policy and management, including net gain and nature restoration.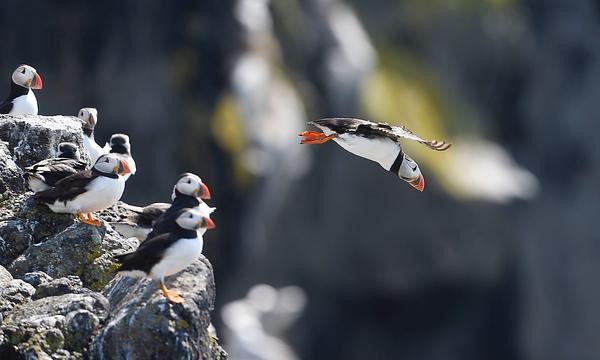 Getting the balance between realising the offshore renewable potential in Scotland and protecting nature is challenging. It requires:
a strong environmental baseline of evidence;
an established approach to marine spatial planning;
due regard for the need to protect the habitats and species in protected sites;
consideration of both the individual development impacts and cumulative impacts of multiple developments;
a commitment to open sharing of data which enables impact models to be tested and refined as developments progress; and
real commitments to invest in communities and marine restoration projects for habitats and species.
IMPACT ON SEABIRD POPULATIONS
There are three main ways in which offshore wind energy can affect our seabirds as these undertake their annual long-distance migrations between their breeding and wintering ground or travel around our seas to forage. These are:
Death or injury from colliding with turbine blades;
Barrier effects from being blocked by the development and diverted from migration routes or displaced from important foraging habitats.
Being disturbed during the construction or operating phase of the development.
Barrier effects mean the birds will avoid flying through the development and this might deny them access to key feeding areas, and this means they will have to either increase their flight distances to fly around it or may try to fly above it. This may lead to seabirds having to increase the amount of energy they expend to feed or migrate. If they are already under pressure (e.g. low prey availability) this adds to the pressure they are under (e.g. when feeding young) and have a knock-on effect on their survival and breeding success.
Northern gannet and the black-legged kittiwake have been identified by scientists as being at high-risk of collision with offshore wind farms that overlap or obstruct breeding, migratory, and wintering habitats. But a wide range of other seabirds including puffins, guillemots, razorbills, gulls and seaducks may also be impacted.
The RSPB report Powering Healthy Seas: accelerating nature positive offshore wind sets out the ways in which offshore developments should be progressed in ways that help protect and allow nature to recover too.
OFFSHORE WIND DEVELOPMENTS - CURRENT STATUS
To date Scotland has seen 14 offshore wind farms (including two floating wind farms) being given consent to be developed and 6 of these are now operational. Combined they are estimated to generate up to 5 gigawatts of green energy.
Beatrice and Hywind Scotland
The largest offshore windfarm is Beatrice (84 turbines, generating 588 megawatts) located about 13km off the north coast of Scotland, near Wick. Scotland also has the world's first floating offshore windfarm, called Hywind Scotland Hywind Scotland (five floating turbines, generating 30 megawatts), which is located off the North-east coast from Peterhead.
Inchcape and Neart na Gaoithe
Other projects of interest include the Inchcape development which is located 15km off the Angus coast in the East of Scotland (potential 72 turbines, generating up to 1GW of energy). Its energy will be transported via subsea cables to an existing national grid electricity site at the former Cockenzie power station in East Lothian. The Neart na Gaoithe (NnG) project, which is about 15.5km off the Fife coast and started constructing its offshore development in 2020 (54 turbines, generating up to 45MW of energy), will have its energy transported via subsea cables to land at Thornton loch in East Lothian.
Strix will carry out an extensive two-year operational study with cameras and radars installed on nine of these wind turbines. The technology will be used to monitor flight activity and to see how the seabirds (especially gannets and kittiwakes which are the most affected) behave around the turbines. The technology is also intended to improve understanding of the behaviours of other species, such as lesser black backed gulls and great black-backed gulls.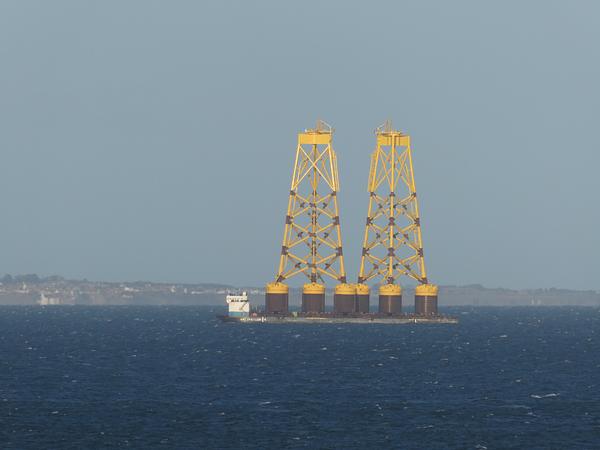 Berwick Bank
More recently SSE Renewables submitted their planning application for the Berwick Bank windfarm located 35km offshore from Dunbar, in the outer Firth of Forth. This development proposal is for an array of 307 turbines that could be capable of generating 4.1 gigawatts of green energy and will lie approximately 47.6 km offshore of the East Lothian coastline and 37.8 km from the Scottish Borders coastline at St. Abbs. The initial grid connection has been secured at Skateraw, near Torness in East Lothian with an additional export cable and grid connection being considered to Blyth, Northumberland (the "Cambois connection").
The stated impacts on internationally important breeding seabirds are significant and are deemed to have an Adverse Effect On the Integrity (AEOI) of Special Protection Areas. For example, the predicted annual adult mortalities for black-legged kittiwakes (699) - collision and displacement, guillemots (1229.9), razorbill (71.2) and puffin (30.2) - displacement only, which over the planned 35 year life-time of the development is substantial. This is concerning.
We are currently working with other environmental organisations to review the Environmental Impact Assessment submitted in support of the development application and will publish our response to it at the end of March 2023. If consented the scale of Berwick Bank Wind Farm would make it one of the largest offshore wind farms in the world.
FLOATING OFFSHORE WIND
Floating Offshore wind is becoming a fast-growing sector, with the technology being deployed in deeper waters where the wind resource is higher and more consistent. The constraints of fixing foundations to the seabed are removed although mooring cables to the seabed still need to be laid. The environmental effects of this type of technology will be similar existing technologies, such as collision risks, potential for entanglement on fixing lines or scouring of the seabed, but other effects during the construction phase, such as the noise from pile driving, will be reduced. The technology should also be more readily deployable in areas assessed to be less sensitive for marine habitats and wildlife.
HOW WE RESPOND TO INDIVIDUAL APPLICATIONS
It is important that developers undertake a robust assessment of the potential impact of their development proposal and its effect in combination with others. The precautionary approach is recommended. A mitigation hierarchy needs to be followed which means that steps should be taken to avoid the effects, minimise these if they cannot be completely avoided or take steps to restore areas. Where direct or cumulative effects cannot be accommodated then there must be adequate compensation for any losses. Compensation should be close to the area(s)/species most impacted.
Steps that can be taken by developers to avoid the most sensitive areas and inform the design of the offshore wind development include:
Avoiding

seabird hot spots or critical habitats, including Marine Protected Areas/Special Protection Areas and SSSIs;
Consider the timing of construction phases or operations to mitigate (

minimise

) the effects;
Consider the layout of the development - total numbers of turbines can be reduced or spacing between turbines increased to reduce (

minimise

) the barrier effect,
Consider the physical design (dimensions) of the turbine. For some seabirds, by increasing the distance between sea level and the tip of the rotating turbine blade, you can reduce (minimise) the risk of collision (see below). Sometimes consideration is also given to the width of the blade.
Restoration might include long-term bio-security support or habitat restoration (e.g. of seagrass meadows) to improve the conditions for prey to thrive in or a co-ordinated and sustained programme to remove marine litter/debris. Compensation for seabirds might involve reducing the impact of other pressures on prey, such as no-take fishing zones. In some situations, developers propose alternative breeding platforms which may help with some species such as terns. It is difficult to judge just how effective some of these restoration or compensation measures really will prove to be. So, it is important to take a precautionary approach. Ultimately the development should leave the environment in a better state than before it takes place – known as "net gain".
In formulating our response, we will draw on the assessments and advice made by Scotland's statutory nature adviser Nature Scot as well as charities, such as RSPB Scotland and BTO Scotland, who have specific technical expertise in these areas.
Our approach is to:
Review the Environmental Impact Assessments and frame our response in terms of the benefits of the development versus the direct impacts on nature.
Review the adequacy of the mitigation and/or compensation proposals made by the developer, to ensure that seabird populations are not prevented from thriving.
Make recommendations on further steps that could be taken to improve the environment for the benefit of nature and local communities.
Our responses to individual consultations are reviewed and approved by the Chair of our Charity Board, in consultation with the Trustees. Our response to individual applications will be communicated in a press release which will be available to the public through our website and social media channels.
WORKING IN PARTNERSHIP
We welcome opportunities to discuss proposals at an early stage with developers and to build partnerships around the gathering of evidence and effective communication of the science around renewable energy impacts on our marine environment, especially seabirds, to the public. Opportunities exist to use our Discovery Experience and our education and outreach programmes to communicate the science.