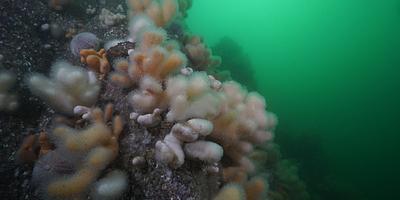 Health of the Marine Environment
The UK's marine area covers nearly 880,000 km2. Scotland's seas, from our shallow inter-tidal waters to the open oceans which are thousands of feet deep, make up 61% of the UK marine area. Within our seas, the warm waters from the south mix with cold waters from the arctic and this creates an environment with an amazing diversity of wildlife. Important marine habitats such as cold-water coral, kelp forests and flame shell beds exist and over 6,500 species of plants and animals have been recorded. With new explorations, especially of our deeper waters, there are likely to be new scientific discoveries in the years ahead.
Our rugged and indented coastline also supports a wide variety of different habitats. These include steep sided coastal cliffs, maritime heath, rocky shorelines, sandy dunes and beaches, mudflats and saltmarshes. Scotland also has a unique flower-rich dune grassland, known as 'machair', which is restricted to the North-west of Scotland and Ireland. Our islands and coastal cliffs are host to spectacular and internationally important populations of seabirds, around a third of Europe's breeding seabirds.
Scotland's marine and coastal habitats need to be cared for – protected, managed and restored.