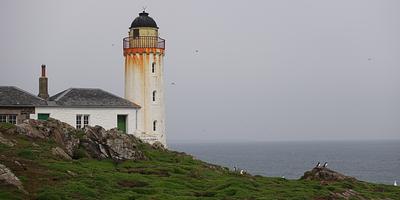 Spring Arrivals: New to Nature
By Emma Marriott, Conservation Assistant
Spring signals an influx of many new arrivals to North Berwick's coastline. The puffins are bobbing about their burrows on the island of Craigleith and an abundance of gannets have returned to the Bass Rock—yet those of you with a particularly keen eye might have noticed an even more recent and slightly less familiar face around the Scottish Seabird Centre lately.
I may not be as grand a sight as a gannet or as impressive as a great black-backed gull, but over the coming seasons my new role as Conservation Assistant is likely to keep me busier than both. Working alongside Conservation Officer Emily Burton, I will be helping to deliver a variety of conservation tasks and community engagement projects. Some of these you might already be familiar with, such as SOS Puffin and Shorewatch, wildlife tours and regular beach cleans.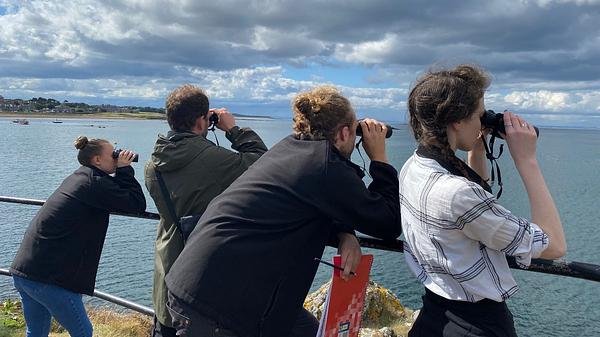 It's only been a couple of weeks since my placement began, yet I've already got some exciting experiences under my belt. On only my second day I found myself on one of two maintenance trips to the Bass Rock. There, an eager team of us got stuck into some tough and intriguing tasks.
Among these was litter-picking. According to the International Union for Conservation of Nature, it was estimated in 2021 that 80% of marine debris is actually plastic and that the world's oceans accumulate 14 million tons and more of it every year. It's no surprise then that much of the material that the gannets have been finding for their nests is litter, so there was a lot to be collected. Unfortunately, we could not remove any litter from the active nests, but every scrap that we were able to take away was a bonus.
Apart from litter-picking in one of the most extreme environments in which I've ever carried a bin bag, we were also busy clearing debris off the paths and lopping back the invasive tree mallow plants which have been the focus of conservation projects on the islands of Craigleith, Fidra and the Lamb. Great progress has been made across the islands thanks to the dedicated work achieved by SOS Puffin and its wonderful volunteers. However, with seedbanks still lurking in their soils it is vital that we continue to participate in these tasks to prevent tree mallow's regeneration and spread.
If that wasn't exciting enough, in my second week I was given the opportunity to land on the Isle of May. At this time of year, the 1.5km long National Nature Reserve is starting to come alive as thousands of seabirds return to the island to breed. I was thrilled and overawed by the sights and sounds that greeted me; razorbills and guillemots gathered on sheer cliff edges below nesting fulmars and cacophonous kittiwakes, whilst puffins swarmed across the sky in their hundreds or perched proudly by their burrows.
We had to step carefully, though, as keeping to the marked paths is vitally important. Puffin burrows are prone to collapse if stepped upon, and ground-nesting eiders are also at risk from unwary footfall. Incredibly camouflaged (and with an unhelpful habit of nesting beside the island's paths), female eiders will incubate their 4-6 eggs for around 26 days without ever leaving the nest. During this time they become rather torpid, possibly to avoid detection or to conserve energy, and it's easy to walk within a stride of one without noticing it's there.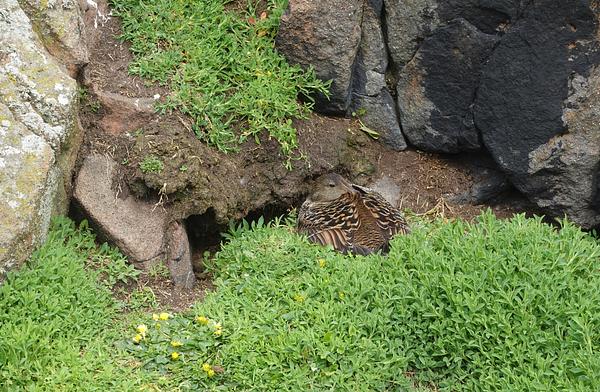 Between all this island hopping, I've also been hopping from task to task around the Scottish Seabird Centre. I've learned lots already and met so many inspiring people. With much more still to see and do I'm looking forward to spending the coming months tackling important conservation issues, forming new acquaintances and learning all that I can in the process.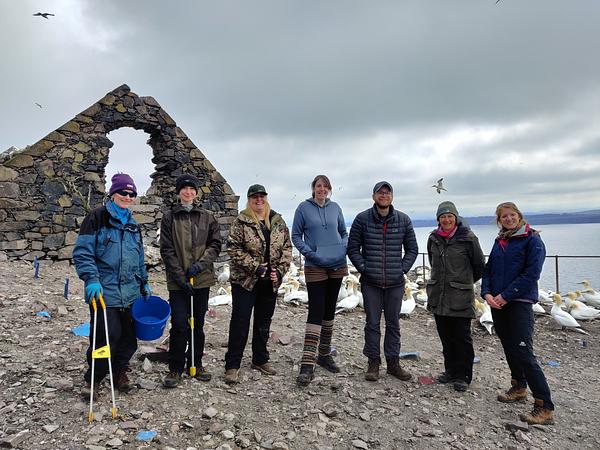 None of this would have been possible, however, without the aid of a new scheme. A 12-month work placement, my role as Conservation Assistant at the Scottish Seabird Centre is financed by the National Lottery Heritage Fund via an exciting programme called New to Nature. This programme—a partnership between Groundwork UK, The Prince's Trust, Disability Rights UK and Mission Diverse—aims to provide young people from diverse and challenging backgrounds with the support they need to gain a foothold in the environmental sector. To do this they are offering ongoing guidance and temporary, full-time work placements in a variety of environmental roles across the United Kingdom to people who might not have had the opportunity otherwise. These include young people from ethnically diverse, disabled or economically disadvantaged communities who are generally underrepresented in environmental roles.
I feel incredibly fortunate to have been given such a fantastic opportunity to work and develop my skills and experience in an area that I am so passionate about. I only hope that, as the year progresses, I can use and share that enthusiasm with others.
To learn more about the New to Nature programme and what they provide, visit their website.
To keep up to date with what's happening at the Scottish Seabird Centre throughout the year, check out our regular blogs or follow us on Facebook or Twitter.

This role has been funded by The National Lottery Heritage Fund via the New to Nature programme - an exciting initiative that is helping to support people from diverse backgrounds into environmental roles. To find out more, visit: www.groundwork.org.uk/new-to-nature-apply