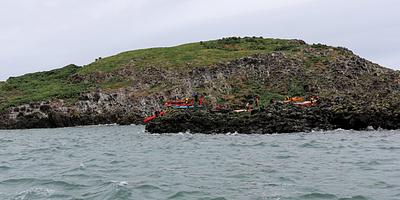 The Lamb is a small island which sits just off the East Lothian coastline, between the islands of Fidra and Craigleith. Despite its tiny size (around 100 metres long by 50 metres wide), the Lamb is home to a whole host of amazing seabirds during the summer breeding season, including cormorants, shags, kittiwakes, razorbills, guillemots, and puffins.
Unfortunately, an invasive plant called tree mallow has also made itself at home on the island. Tree mallow, which is thought to have been introduced long ago by soldiers on the Bass Rock because of its medicinal qualities, has now become a problem on several islands. It spreads to form a dense jungle which can grow up to three metres in height and prevent seabirds like puffins from nesting. This means that regular visits are needed during the spring and autumn to control the plant, a task undertaken by the brilliant SOS Puffin Project volunteers. On larger islands, volunteers travel out on a boat in a groups of 8-12 people, loppers and shears in hand, to chop down the mallow one plant at a time.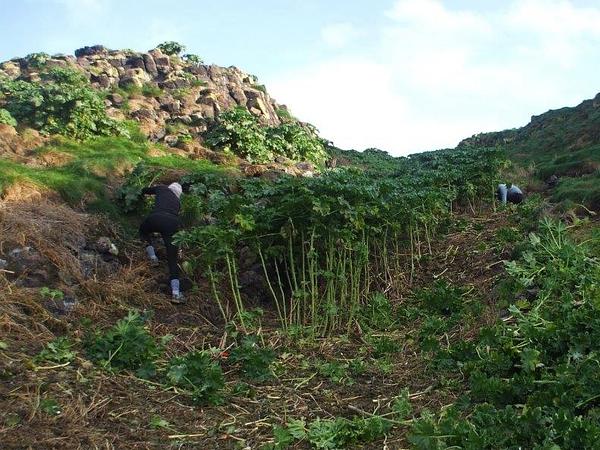 However, accessing the Lamb is much more challenging. Surrounded by slippy rocks and with no easy landing place, it can rarely be reached on the Viridor Puffin (the boat we usually use to carryout conservation on the islands). However, smaller and more manoeuvrable vessels like kayaks (operated by experienced kayakers), are able to successfully land on the Lamb even in marginal sea conditions. This is where the brilliant Lothian Sea Kayak Club step in.
The Lothian Sea Kayak Club was founded in 1987 and has grown from a small group of likeminded paddlers into one of the largest kayaking clubs in Scotland. Aside from organising events, trips and training, the club also works to minimise its environmental impact by carrying out tasks to tackle marine pollution and protect important marine habitats.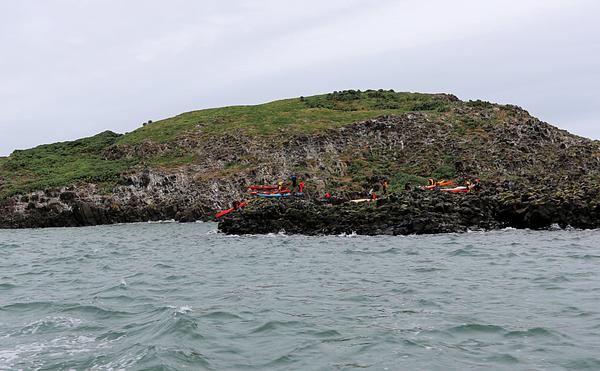 Over the past 6 years, this has included working in partnership with the SOS Puffin project to control tree mallow on the Lamb. Provided with training and tools by the SOS Puffin team, experienced sea kayakers travel out in organised groups and spend hours at a time chopping down tree mallow on the Lamb.
John Hunt, Coordinator of SOS Puffin, said ''I was delighted when in 2016 the Lothian Sea Kayak Club offered to help with controlling tree mallow on the island. Under the leadership of David Simpson, parties of up to 20 kayaks have been out at least once a year since then. I have been impressed by their professional approach and it has been a pleasure working with them. It has been a fine sight to see a flotilla of colourful kayaks setting off for the Lamb. Judging by their reaction on return, the kayakers really enjoy the challenge of landing on the island in what has often been a significant wind and swell.
It has also been satisfying for them to clear the mallow and contribute to an important conservation project. The Club has effectively adopted the island and even purchased some of their own tools. Thanks to their efforts, the important colony of over 600 pairs of Puffins has been safeguarded from the encroaching tree mallow.''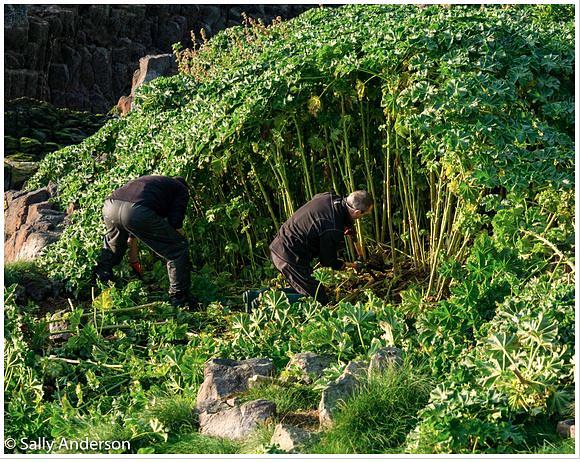 David Simpson, President of the Scottish Canoe Association and Lothian Sea Kayak Club committee member, said ''Lothian Sea Kayak Club were inspired by John Hunt's understated commitment to the North Berwick coastal environment. Whilst giving a talk to the club, he mentioned that the Lamb was hard to land SOS Puffin volunteers on to cut the tree mallow. Us kayakers like a challenge, so I rashly committed the club to keeping this islet clear of the stuff.
That was 6 years ago, and the response of people has been superb. The lure of paddling a short distance, landing awkwardly on rocks, and grovelling around the guano coated slopes was irresistible. We also added a cake baking element and some dreadful poetry, and the event became a fixture. People now strive to outdo each other in terms of cake presentation with gingham tablecloths, silver forks and recently a 3 tier cake stand.... oh and a heck of a lot of tree mallow is cut too, honest!''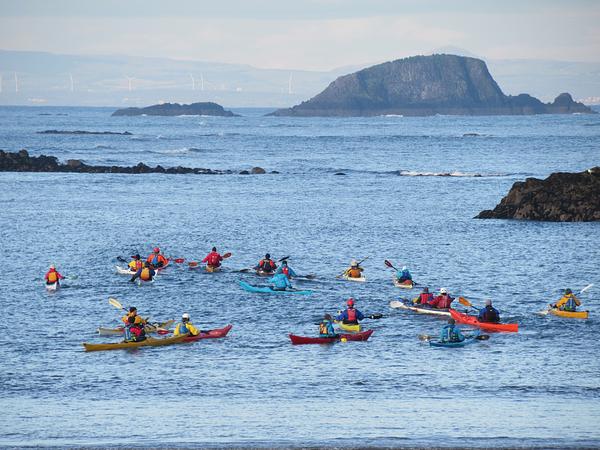 ''The Lamb is a favourite place to play in swell among the offlying rocks and paddling out there is not always easy. Getting a work party (plus tools and cake) ashore means a bit of teamwork is required. There's a great sense of common purpose when all are working hard, I think we've forgotten about how satisfying and worthwhile manual work can be. Combine that with paddling for a purpose and the experience is actually very rewarding.
Getting home can be fun - in certain swells you get a great 'zipper wave' washing over the landing area and if you don't watch out you definitely will be off into deep water. (But that's what we all bought the fancy drysuits for). I took SOS volunteer Sally Anderson out in my double kayak and amazingly she not only got ashore dry shod , but also captured the mood with her superb photography. You can view Sally's blog here.
We are delighted that throughout lockdown Tim, Chris and Neil have kept up the work, the commitment (and the dire level of banter) - the Lamb has been well shorn and currently looks as though we'll need to swap the loppers for nail scissors. However, come Autumn we'll all be back, and doubtless so will the mallow!''
We are hugely grateful to everyone who has worked with the Lothian Sea Kayak Club over the past 6 years to control tree mallow and protect important seabird habitats on the Lamb. Special thanks to David Simpson for organising the trips and sharing his experiences with us in this blog. We very much look forward to continuing to work with the club to carryout marine conservation tasks in the future.