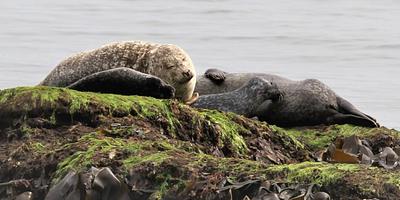 Marine Mammals of the Forth: a history and how you can help
The Firth of Forth, an industrialised estuary on the east coast of Scotland, is perhaps not the first place you'd think of to find whales and dolphins. However, as our knowledge grows, it's becoming apparent that this area is a really important place to many marine mammal species.
When we say 'marine mammals', we mean whales, dolphins, seals and porpoises (and manatees, dugongs, sea otters and polar bears, but we don't get too many of them in the UK!). In the Forth, there are two resident species of seal, the harbour and the grey seal, and in the past year we have also been lucky enough to have had humpback, minke and sei whales as regular visitors, along with bottlenose dolphins, harbour porpoise and common dolphins, to name just a few.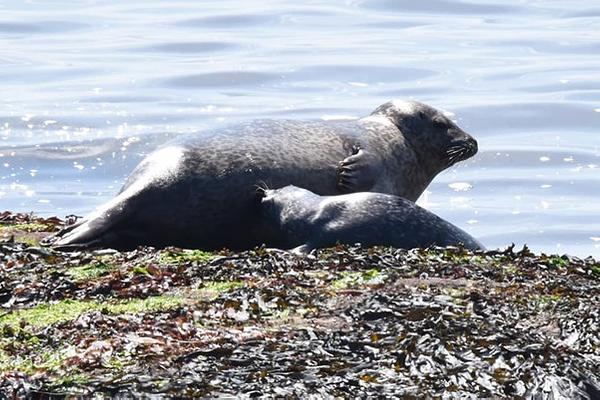 However, the variety and abundance of marine mammal sightings we see today has not always been the norm. A combination of a vast increase in human populations during Victorian times, alongside huge industrialisation, development and unrestricted use of toxic chemicals, and bad (or absent) sewage management meant that for many years the Forth became the unfortunate outflow of water that did not well support biodiverse seas. Many fish species went extinct from tributary rivers into the Forth, whilst the Forth itself became more populated with animals and plants that were specialised to living in poor water conditions. During these times, records show whales, dolphins and seals became virtually absent from the Forth. It wasn't until the implementation of new water quality standards in the 1970s, alongside the development of a modern sewage work system, that we have seen the quality of the waters returning to those that can support a rich and biodiverse abundance of marine life.
Not only was the water quality potentially too poor to support prey for high numbers of marine mammals, many of our whale, dolphin and seal populations are also still recovering from historical exploitation (whaling and sealing), which only really faded from British culture in the 1980s. Perhaps surprisingly, for many whale species, whaling is still in living memory – for example it is thought that Sei whale's live to around 70 years of age, and humpbacks to between 50 and 100 years old. Many of the whales we see have lived through many changes in the human world – from whaling, to changes in fishing habits to the development of offshore wind farms – their world is forever changing due to anthropogenic (human) causes.
In order to help understand one aspect of this human activities, the recently launched 'Scottish Vessel Project' is collecting data on vessels, and marine mammals, at a number of sites around Scotland. Excitingly, the project is appealing to anyone interested to collect data and contribute to the project. The training can be received either via 'Shorewatch' training with project collaborators WDC, or through directly contacting Emily, who is leading the project. Alongside volunteers undertaking dedicated watches, the project are deploying timelapse cameras and AIS receivers at a number of sites around Scotland. This will help explore how vessel activity changes over the course of the year, and how this might overlap with presence of marine mammals.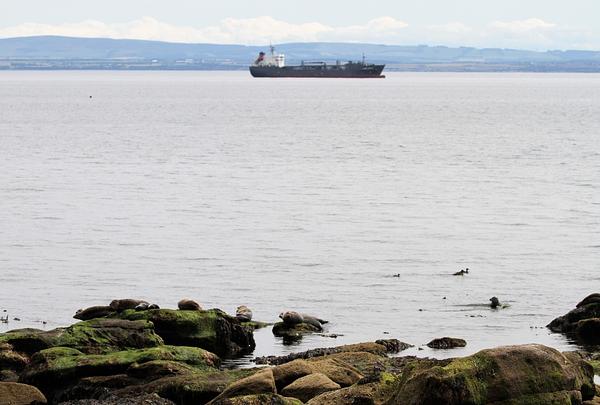 Additional to the Scottish Vessel Project, there are plenty of ways you can help conserve marine mammals of the Forth. For example, we are lucky that many species can be seen from land, many times without even needing any binoculars! Harbour and grey seals can be spotted lurking near harbours and rocky skerries, and there are many important places along the Forth where seals haul out – that is where they come onto land, to perhaps rest, have pups, breed or moult. We are especially privileged to be able to see such spectacles, as in recent history, it seems grey seals were a rarity in the Forth. The Isle of May bird observatory, set up in 1946, recorded scarce numbers of grey seals in the 50s, though noted numbers hauled out were tentatively increasing. In fact, there is a story of the principal lighthouse keeper finding 'a white-furred pup' (the white lanugo fur indicating it was likely a grey, rather than harbour seal pup) and was so shocked and excited by it, 'picked it up to show his wife'. Fast forward to present day, and the latest pup counts from the Sea Mammal Research Unit suggest around 8000 grey seal pups were born within the Forth in 2018. The story is not the same for harbour seals in the Forth, their numbers have been declining since the 1990s, and unfortunately continue to decline. So, if you are lucky enough to spot a seal it's important you take steps to avoid disturbing them, as fantastically demonstrated in the Cornwall Seal Group Research Trust's infographic below. As long as we follow those guidelines and help ensure others do the same, we can continue to enjoy observing the wealth of fantastic wildlife within the Forth. If you are lucky enough to spot a whale, dolphin or seal within the Forth, you can ensure these sightings add to the growing body of research by recording what you've seen with the Forth Marine Mammals Project, Sea Watch Foundation, or WDC Shorewatch. Happy spotting!