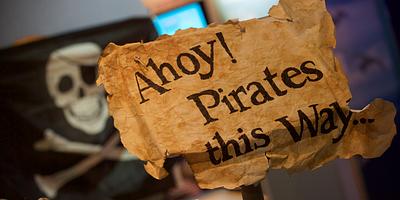 Plundering Pirates
Attention landlubbers! It's time to discover the life of Scottish pirates and become a salty seadog.
Whilst looking out towards the island of Fidra – thought to be the real-life inspiration for Treasure Island! – children will learn about the bloodthirsty history of pirates in Scotland. They'll find out about some actual pirates that lived in the area, and have a go at creating their very own treasure maps. They also get the chance to invent their own pirate and tell their 'shipmates' all about them! Outside, the children will be shown some of the history of North Berwick with a tour of the ruins of St. Andrew's Kirk, before heading down to the beach to build their own Treasure Islands in the sand.
We will happily adapt and modify workshops to suit your requirements.
Please refer to our Education Workshop Guide which lists Curriculum for Excellence experiences and outcomes for the 'Plundering Pirates' workshop.