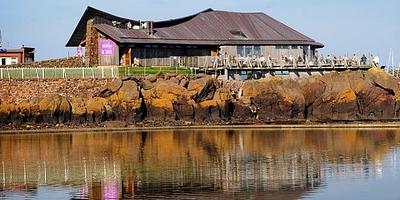 Scottish Seabird Centre seeks new Chair for Board of Trustees
Award-winning marine conservation and education charity, the Scottish Seabird Centre, is recruiting a new Chair for the charity's board of trustees.
This follows the news that current Chair, David Windmill, will be stepping down after 8 years leading the board. This is in line with the charity's governance procedures as Mr Windmill has served two full terms. Mr Windmill will remain as Chair until a successful appointment and handover has been completed.
The charity is looking for the new Chair to help them deliver on their 2020-2025 strategic plan, and to build on the success of the recent refurbishment of their marine Discovery Experience, a five-star visitor attraction dedicated to inspiring and educating people about the Scottish marine environment.
The opportunity comes soon after the Scottish Seabird Centre revealed that significant support from individuals and organisations, following its first public appeal in 20 years, helped the charity manage the significant financial impact of the COVID-19 pandemic.
CEO Susan Davies said of the recruitment process: "David has been an asset to our charity, leading our Board through some challenging times. We will be sorry to lose him. We are now seeking to appoint a similarly enthusiastic and committed Chair who will steer the next phase of our journey as we look to further our conservation and education activities, whilst continuing to innovate within our visitor attraction."
This is a voluntary role. Full details and application pack are available on the charity's website www.seabird.org.
ENDS
For further press information contact:
Jess Thompson, Marketing Manager, email: marketing@seabird.org; tel: +44 07748908027
Scottish Seabird Centre
· The Scottish Seabird Centre is an award-winning conservation and education charity, dedicated to inspiring and educating people about the Scottish marine environment, motivating them to care for and support conservation projects to protect it. It is supported by a 5-star not-for-profit visitor attraction.
· The Centre was originally conceived by local businessman and ornithologist, Bill Gardener MBE, whose vision was to make the wildlife wonder on the Bass Rock (now the world's largest northern gannet colony) accessible to all.
· Based in the beautiful seaside town of North Berwick, the charity's vision is "to help ensure that Scotland's marine environment is healthy, wildlife-rich, valued and enjoyed by all" by inspiring and educating people about the Scottish marine environment through the exhibits in their 5-star visitor attraction, their education and outreach programmes and award-winning conservation projects.
· From a child's first experience of puffins to a magical insight into underwater habitats, the Scottish Seabird Centre brings the wonder of Scotland's seas to life through a range of projects and initiatives.
· Their award-winning SOS Puffin project has involved over 1200 volunteers and more than 300 work parties to date. The project has been a resounding success, helping the critically endangered Atlantic puffin population on the local islands to recover from a significant low in the early 2000s.
· Over 3,000 school-aged children and young people engage with the charity's education programmes annually – these encourage them to learn more about Scotland's diverse marine wildlife and motivate them to take action to conserve it. The charity arranges free travel and discounted attendance for schools from the most deprived areas of Scotland.
· The charity runs year-round events for all ages from live science shows for young children and families, to expert talks and citizen science activities.
· With their expertise and resources, the charity also supports a wide range of organisations and festivals with education, outreach and engagement work. Partners include: Edinburgh Science Festival, Scottish Natural Heritage, Fringe by the Sea, East Lothian Countryside Rangers and North Berwick in Bloom.
· The centre's creation was made possible thanks to an inspiring community drive which saw locals 'buying a brick' to help fund the project. Many of those involved in the original appeal continue to volunteer and engage with the charity today and it remains a thriving community hub. From these visionary beginnings the charity has grown to have national reach and has been connecting people and nature for 20 years.
· The Scottish Seabird Centre opened in May 2000 and has won multiple awards for tourism and sustainability. It has led a range of high-profile conservation and education projects.
· The recent refurbishment has been made possible thanks to major funding from the Coastal Communities Fund and Wolfson Foundation, as well support from Scottish Enterprise Foundation, the Hugh Fraser Foundation, the Robertson Trust, the Ellem Foundation, the Dulverton Trust and other generous donors, including the charity's own Founding/Life members and volunteer group.
· Follow the Scottish Seabird Centre on Facebook/ScottishSeabirdCentre. Twitter @SeabirdCentre and Instagram @seabirdcentre
· For more information on the Scottish Seabird Centre visit www.seabird.org
Key Facts about Scotland's marine environment
· Scotland has over 18,000km of coastline, in excess of 900 islands, 61% of the UK total sea area.
· The area of Scotland's seas is about 6 times the land mass of Scotland.
· Scotland's seas support an amazing diversity of wildlife with over 6,500 species recorded.
· A third of Europe's breeding seabirds are found in Scotland.
· Seabirds are one of the world's most threatened groups of vertebrates and one in three species are globally threatened with extinction, including populations of Atlantic Puffin (Fratercula arctica) and Black-legged Kittiwakes (Rissa tridactyla) which are enjoyed by visitors to the Firth of Forth.
· Important marine species include basking sharks, dolphins, porpoises and seals. About 35% of Europe's harbour (or common) seal population also occur in UK waters with 83% of these found around Scotland's coast.
· Underneath the water Scotland supports important marine habitats such as cold-water coral, kelp forests and flame shell beds (an important blue carbon resource).
· Our oceans are important natural resource for combatting the effect of climate change. 83% of global carbon cycle is circulated through the world's oceans and our coastal habitats account for around 50% of the total carbon sequestered in ocean sediments.
· Healthy seas, however, have huge potential to provide natural solutions to the climate emergency by locking up carbon and helping the planet to cool.
· In the last 50 years we have lost 2% of the oxygen in our oceans as a direct result of climate change, this is already having a devastating impact on our marine eco-systems and if left unchecked will be catastrophic for food security the world over.