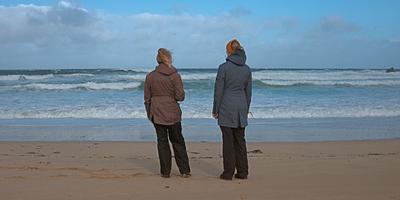 Marine Citizen Science Toolkit
Booking essential
13 June - 21 July 2021
Join our Conservation Officer for an outdoor, interactive introduction to marine citizen science. Learn what citizen science is, why it's important, and discover how you can get involved in collecting data to safeguard wildlife and habitats. This is a great opportunity to discover Scottish seabirds, shorebirds and cetaceans and learn more about how to identify and protect them.
We ask for a suggested donation of £5 from each adult for this event. This money is gratefully received and will go towards supporting our education and conservation work around Scotland.
Friendly, quiet dogs are welcome, but we ask they are kept on a short lead throughout.
Route
Start and finish outside the Scottish Seabird Centre (on the patch of grass in front of the Learning Hub and main entrance to the centre), taking participants on a return journey down onto Milsey Bay Beach and then up onto the harbour wall area. Walks will vary depending on the wildlife around and the particular interests of the participants, but a variety of species and habitats will be explored and discussed.
What will we provide?
Binoculars (for the duration of the walk), a wildlife ID guide, a citizen science information leaflet, alcohol hand-gel (if needed).
What do I need to bring?
Walking boots or shoes, clothing appropriate for the weather outside, a drink, any medication you may need, a face covering, a mobile phone, sun protection (good weather days).
Accessibility
Unfortunately, this walk is not suitable for wheelchair users or pushchairs. The walk is up to 2km – please consider whether this is a manageable distance for you before booking. It is mostly easy-going and flat (along the beach), but it does include some steps/slopes in places.
Keeping everyone safe
We are running these walks in-line with COVID-19 guidelines relating to organised outdoor exercise. A maximum capacity in line with government guidelines will apply and appropriate safety measures will be taken throughout, including the thorough cleaning/quarantining of equipment before each use . We ask that all participants maintain social distancing from each other (if from different households), and wear masks when collecting equipment or unable to maintain distancing.
Our group leader is a trained first aider and will be carrying a first aid kit and mobile phone. A copy the event's risk assessment will be available to view on the day.
What if my event is cancelled?
You will hear from us the day before this event if it is cancelled due to poor weather conditions or other circumstances. In these circumstances you will be refunded your donation.