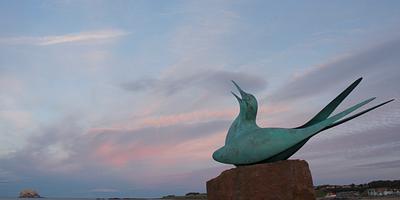 COVID19 - Know before you go
Visit us safely
Open daily
We are delighted to be open again and welcoming visitors and members back.
We know some people may feel nervous about getting out and about as restrictions continue to ease. Please see below for details of the steps we've taken to ensure you can relax and enjoy your visit with us.
We are a conservation and education charity in the beautiful coastal town of North Berwick. Supported by our 5-star visitor experience. Dive in and explore the wonder of Scotland's marine environment with us in our interactive Discovery Experience. Soak up the coastal views from our Seabird Café, browse the sustainable gifts in our shop and get up close to the local wildlife on our seasonal boat trips.
Fantastic Covid safe visit to the seabird centre today with my wife and two children (three & Five) nice shop and cafe for refreshments and mr Egghead science show was the highlight. Lovely staff and super clean and organised...
Visitor numbers and flow are monitored at all times.
However, if you would prefer to visit when it is quiet the best time is between 10 and 11am or after 3:00pm in the afternoon. Full details of our usual opening times can be found here.
We've made some important changes to how we operate to protect and reassure you during your visit. Although things are a little different, rest assured that your trip will be as fun as ever.
In line with Scottish Government guidelines:
We have setup:
ADVANCE BOOKING All visits to the Discovery Experience must be booked online in advance HERE - please note visit time in Discovery Experience is 1 hour and we ask that arrivals are prompt to help with visitor flow. Please be aware that parking in peak season can be busy so please allow ample time to park if travelling by car.
VISITOR FLOW A new visitor flow system in place and visitor numbers into the Centre will be restricted.
PHYSICAL DISTANCES Installed floor markings and signage as a reminder of physical distances and good hygiene practices. From Monday 19 July 2021 we will be operating a 1 metre distance rule between households.
ADVANCED BOOKINGS Introduced advance booking systems to help us to ensure your safety, comfort and still give you the best possible experience at the Centre.
NEW CAFE MENU We have a new café menu which is available here.
HOUSEHOLD GROUPS Following Scottish Government guidelines we can welcome a maximum of 6 adults from only 2 households per table in our cafe. Children under age 12 are not included in this total. From Monday 19 July 2021 in line with the move to level 0 these numbers will change to 10 people from 4 households.
BOOK BOAT TRIPS All wildlife boat trip experiences should be booked online via our boat booking page here. Please note the toilets in the Centre are available from 10am and public toilets open from 10am on Quality Street and in the harbour. If your boat trip leaves earlier than 10am unfortunately there are no public toilets open.
TEST & PROTECT We will be capturing the contact details of people visiting the Centre should the 'Test and Protect' procedures have to be implemented with Public Health Scotland. Please note contact details for all adults will be requested on arrival.
CLEANING REGIMES Implemented new cleaning regimes and all staff will be wearing appropriate PPE.
SCREENS Installed protective perspex screens at our café, information and boat office counters.
HAND HYGIENE Provided hand sanitisers for use on arrival/ exit and throughout the Centre.
USING OUR TOILETS Limited our toilet facilities to only one household at a time to maintain physical distances. Public toilets are available in the harbour and more a short walk away on Quality Street. They open at 10am.
GOOD TO GO Been certified by VisitScotland, as part of the UK Tourism Industry's 'Good to Go' accreditation – this means we have carried out a COVID Risk Assessment and have all the necessary health and safety processes and protocols in place.
We ask that you:
Book a time slot in advance online for our Discovery Experience here. Please be aware that parking in peak season can be busy. Please allow ample time to park if travelling by car.
Book in advance online for our seasonal boat trips.
Please note following the latest Scottish Government guidelines contact details for ALL adults are required for Test and Protect (for both our boat trips and entry to the Centre). This ensures we can provide information to the Test and Protect Trace team, if needed.
Please use cashless payment where possible.
Please use the hand sanitisers provided.
Please respect physical distance from those not in your own household and practice good hand and respiratory hygiene practices.
Follow the Scottish Government Guidelines on travel.
Do not visit if you feel unwell; we will be delighted to welcome you back when you feel better.
Please wear a face covering in all areas of the building. This can be removed when seated in the cafe but we asked that you put it back on when moving around the building.
Enjoy your visit!
By visiting us, you are starting to help us rebuild our charity so that we can continue our marine conservation and education activities and share the wonders of Scotland's marine environment with people across the country.
If you share our love of the Scottish marine environment and would like to support our vital marine education and conservation work please consider:
Choose gift aid when purchasing your Discovery Experience tickets to help support our Charity further.
We promise that we will do all we can to follow the latest and most relevant guidance to keep all of us as protected as possible. As the guidance changes, so shall we.
Thank you for your support and patience.